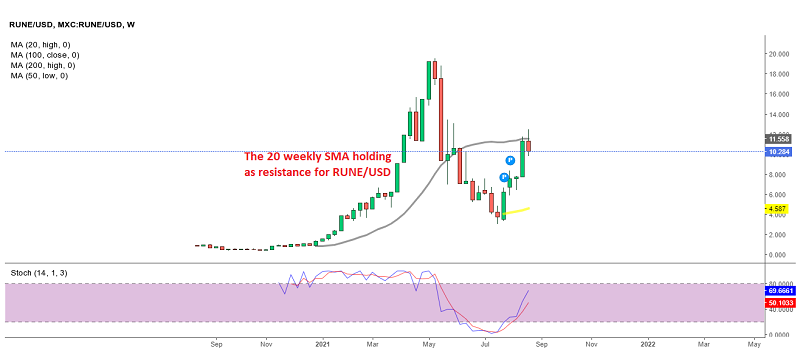 ThorChain Brushed Off Attacks And Kept Rallying, But Rune Coin Failing on the First Attempt at the 20 Weekly SMA
ThorChain, which is a cross-chain interoperability protocol for exchanging tokens like Bitcoin and Ethereum between them. It had an amazing run during the beginning of this year, increasing from around $0.80 in December 2020 to almost $20 by May this year. Although, the crash came in the crypto market and the Rune coin fell to almost $3 during that crash.
That means losing nearly 85% of the pre-crash value, which makes the decline in RUNE/USD one of the biggest ones in the cryptocurrency market. Even the meme coins such as Dogecoin and Shiba Inu held better than ThorChain. So, the situation wasn't looking good for Rune, as it kept making lower lows pretty fast, when most of the market was stagnating or even putting up higher lows.
Although, the decline stopped at the moving averages on the weekly chart. Rune coin bounced higher from there as the sentiment in the crypto market improved and has put up one of the strongest fights since then. It climbed to $12.50 by Monday, which means that it increased around 4 times in value in exactly a month.
This makes Rune one of the strongest digital currencies out there. That came despite a number of attacks in the last few months. ThorChain was hit by a hack last month which cost it $8 million when an attacker tricked the project into making a refund for assets that hadn't been deposited.
Although, that didn't deter buyers who kept buying Rune coins. But, it seems like RUNE/USD is failing the first attempt at the 20 SMA (gray) on this chart. Buyers pierced that moving average which stands at $11.60s, but the price has reversed back down, with the crypto market retreating. The week is still young, so the candlestick will likely change drastically by then, but let's see if buyers have the stamina to push the price above this moving average. If it doesn't, ThorChain will probably pull back down to support areas where we will try to buy this crypto. You can follow our crypto signals on our forex signals page.