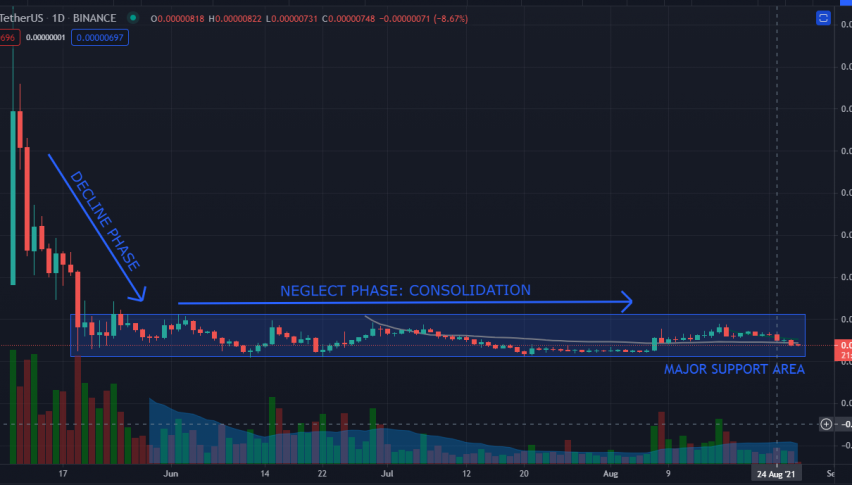 What's next for the DOGE-Killer, SHIBA INU (SHIB)?
* SHIB Price Chart – Daily timeframe heading towards support levels
The "Dogecoin killer", Shiba Inu (SHIB), has been trading within a range for the past few months and is currently nearing all-time low support levels again. SHIB looks like it has transitioned from the "decline phase" to a consolidation or "neglect phase" as selling pressure has slowed down and most traders seem to have forgotten about this meme coin. Despite this fact, as long as SHIB does not fall below this major support level, it will just continue to trade within the range of 0.0000055 to 0.0000100. This area has proven to be a strong support for SHIB, as it has exhibited buying demand every time the price reaches this area, which has already occurred at least five times this year.
What is SHIB?
Shiba Inu (SHIB) is the 45th largest cryptocurrency, with a market capitalization of $2.76 Billion. Despite being a meme coin, with a limited use case, it has been a very popular part of the subculture of trading cryptocurrencies. Shiba Inu coin was created by "Ryoshi" (which is a pseudonym) in 2020. SHIB rallied on the popularity of Dogecoin (DOGE) earlier this year, reaching the all-time highs of 0.00050. SHIB hit the mainstream thanks to tweets by Elon Musk and Vitalik Buterin, which supported the coin early this year.
Despite the tremendous popularity it achieved earlier this year, its weekly trading volumes have been at all-time lows. It would seem that SHIB is already being neglected by most crypto market participants. However, I do believe that sooner or later, trading volumes will pick up again.
Where is the Money going?
The reason why I believe capital will return to SHIB in the near future is because of the Crypto Money Flow Cycle. This cycle presents the flow of capital from one form of money to another, beginning with Fiat, because it is needed, first and foremost, to make a cryptocurrency investment.
Fiat money will usually flow into large cap coins like Bitcoin (BTC) and Ethereum (ETH), as the coins rally. Market participants are then likely to divest their gains and exposure from large caps to mid-cap and low-cap altcoins. This is where SHIB comes into play. Sooner or later, I believe capital will flow into SHIB again, as traders start to see that it is relatively "cheap" compared to other coins. Especially now that BTC and ETH have rallied tremendously in the past month, and are currently correcting, or at least consolidating, we can expect capital inflows to start going into altcoins and meme coins.
Trade Idea: Buy Support, Sell near Resistance
One trade idea to capitalize on is to buy SHIB near the major support level. It is important to wait for the price to settle down near the support before buying. Watch trading volumes thin down, and buy in tranches – the first tranche at or near the support area, the second tranche as it moves higher at the 20-day moving average (yellow line), and the final tranche as it rallies above the 50-day moving average (gray line). Currently, there is no definite buy trigger, but expect a bounce near the support area, as this has happened consistently this past year. Put your stop loss below this support area, as this trade idea is negated if SHIB falls below this area. Sell rallies immediately, as the overall bias for SHIB is still bearish/neutral. However, it's a different ball game if it rallies higher, above the resistance of 0.000010.
Summary
This trade idea is a play on the shift of capital from the large caps to smaller cap cryptos. This could span a few weeks to maybe a month, since at the time of writing, it is not yet clear whether the BTC short-term rally is definitely over. It would be crucial to take note of the tranche-buying, in order to manage your risk properly. The overall bias for SHIB is still bearish to neutral, as it is consolidating and trading within a very tight range, heading down towards its all-time lows. Manage your trade by risking only 0.25-0.30% of your crypto portfolio per tranche, for a total of 1.00% risk for the 3 tranches.