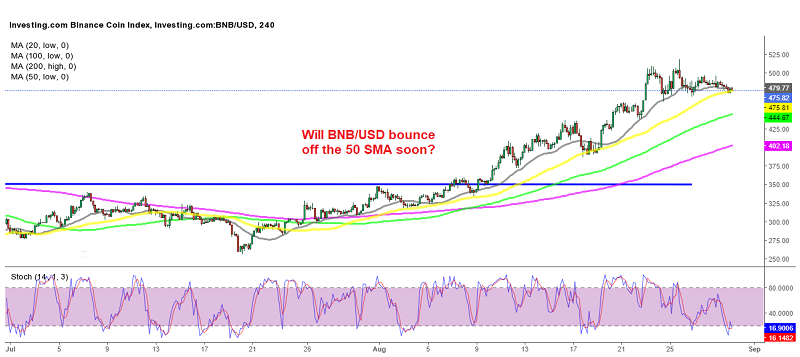 Binance Coin Keeps the Bullish Trend, Despite the Retreat in the Market
The Binance exchange has been under pressure from the global establishment this year, with the aim to end its operations. But, since the crash in June after China started the crackdown on cryptos openly, the Binance coin has been showing bullish signs.
The lows kept getting higher during the bearish period, which lasted until late July, while many other cryptos kept making lower lows. Binance coin is still way below the May highs, which stand right under $700 but the bullish trend has been quite straightforward since the reversal in July, much more so than in other major cryptocurrencies.
Ethereum and Bitcoin have been trading on a range in the last couple of weeks, while BNB/USD has been marching higher, as we highlighted in our 2021 Binance forecast, with moving averages acting as support during small pullbacks and pushing the price higher. The smaller moving averages, such as the 20 SMA (gray) and the 50 SMA (yellow) have been doing this job, also showing that the pace of the bullish momentum is quite strong.
The fight against the Binance exchange continues, with some countries like Malaysia banning it completely. But, Binance has mostly complied with the requests so it has survived this jibe and BNB/USD is not looking back, even as the rest of the crypto market is retreating.
Buyers pushed this cryptocurrency to $518 last week, although it has been consolidating, and now that moving averages have caught up with the price, chances are that it will resume the bullish trend once again. The price is oversold on the H4 chart as Stochastic shows at the bottom of the chart and, so we are getting ready to open a buy signal here. We will place the stop loss target below $430, which has been high during the bearish period of the past few months and we will leave the take profit target open.