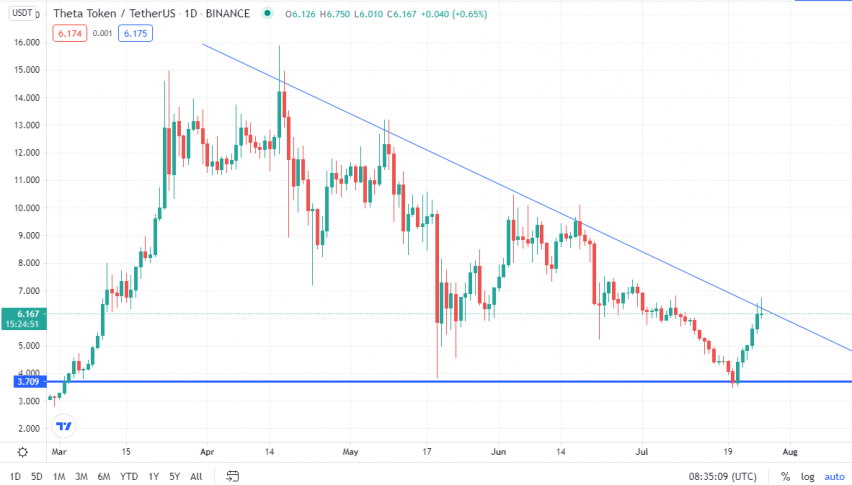 Theta Off to a Slow Start This Week
Theta mostly treaded water over the weekend, hanging around the $6.80 (THETA/USD) and $7.00 levels. The crypto showed some promise Friday when it rose from a low of $6.34 to peak just below the $7 level at $6.94. It actually pushed past that $7 mark over the weekend but couldn't hold onto the momentum.
This morning, Theta is down 2.79% to $6.72 at the time of this writing. We don't expect to see it move much higher than that over the next few days, especially with its recent lackluster performance. Theta was testing the $8 resistance level briefly last week- a level it had shot past the week before that, but once again only briefly.
Where Is It Going from Here?
What we haven't seen from Theta in recent weeks is consistent performance one way or another. Any gains it seems to make are very temporary. The expectation for this crypto at the moment is that it will not shoot past the $8 level and then stay there. At this time, it seems to be more of a day trader's crypto than a solid long-term investment. Investors who are able to watch the crypto carefully on an hourly basis may be able to catch a break and ride a bearish trend to profit, but looking at its performance over the last couple months does not inspire confidence when it comes to long term investing.
It's important to look at data not just for it's week to week activity and price changes but also what the larger entity behind the coin is doing. Theta recently partnered with ONE championship to create non-fungible tokens. It is positioning itself to be the standard for NFTs from video and media. If that project takes off, Theta's potential price ceiling would disappear.
Investors should look at the $6 level as a signal to offload the token, as it could have a difficult time course correcting from there. If it moves past the $9 level, that would indicate a strong bearish trend. The partnership with ONE Championship is quite new, so these are the levels potential investors should be keeping an eye on.