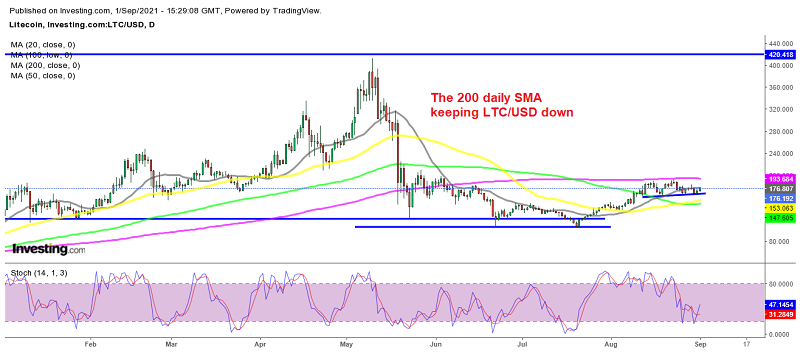 Buying Attempts Failing in Litecoin, As Buying Pressure Diminishes in LTC/USD
Posted Wednesday, September 1, 2021 by
Skerdian Meta
• 2 min read
Litecoin was quite bullish until the middle of May, but since the crash in the crypto market, it has been looking increasingly bearish. It lost a big part of the value during the crash and while other cryptocurrencies have turned bullish again, Litecoin has stagnated below moving averages.
Litecoin increased to $190 according to my forex broker, but it has been unable to make new highs and in fact, the highs have been getting lower for this crypto during the last two weeks, while Ethereum is marching higher. On the daily chart, the 20 SMA (gray) was acting as resistance during the bearish period, pushing the price down.
It turned into support by the middle of August, after being rejected by the 200 daily SMA (purple). That was a bullish sign, since the trend is considered as reversed when MAs turn from resistance into support and vice-versa. But, the price slipped back below it, so that signal is invalid now.
Litecoin trading on a narrowing range
On the H4 chart, smaller moving averages such as the 20 SMA (purple) and the 50 SMA (yellow) were providing support when the pace of the uptrend was strong, until the middle of August. Since then, the buying pressure has diminished and LTC/USD has been trading sideways. The 200 SMA (purple) has been acting as support, while the highs are getting lower. So, there is not much buying pressure for Litecoin.
The interest that regulators have shown in the US toward cryptos and Litecoin as DeFi contracts with interest paid in Litecoin face scrutiny from them. Regulators in New Jersey say Block Fi, a DeFi provider, is offering unregistered securities, regarding accounts offering interest paid in LITECOIN . This is not positive news for Litecoin, although markets are becoming increasingly used to comments from regulators on cryptocurrencies. So, for now Litecoin remains in a range and our buy signal from around $170 is still on.