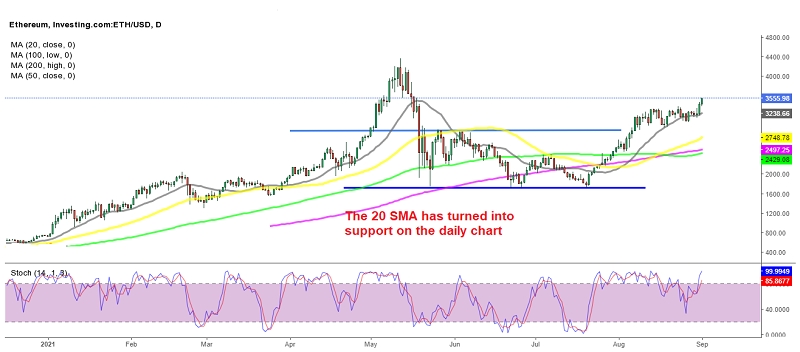 Keep Ethereum Longs, as it Heads for All-Time Highs, With MAs Pushing it up
Posted Wednesday, September 1, 2021 by
Skerdian Meta
• 2 min read
Ethereum has turned out to be one of the most bullish cryptocurrencies once again, as it keeps pushing higher, while most other cryptocurrencies have stagnated for more than a week. It was leading the crypto market in May before the big crash, while Bitcoin was retreating lower, and it seems like it is taking the lead once again now.
Bitcoin has been stagnating since it broke above the $50,000 level last month and retreated back down. Ethereum, on the other hand, is not stopping, as buyers keep pushing higher. Moving averages are helping the matter, with the 20 SMA (gray) turning into support and pushing the price higher. This shows that the bullish momentum is quite strong for ETH/USD, so Ethereum longs are in a good place, especially those who bought this crypto down at the support area around $1,720-30.
MAs push Ethereum above the resistance at $3,50
On the H4 chart, moving averages are also helping buyers push the price higher. Smaller MAs such as the 20 SMA (gray) and the 50 SMA (yellow) were acting as support until the middle of August, when the pace of the uptrend was extremely strong, as we highlighted in our 2021 Ethereum forecast, then the 100 SMA (green) took over that job as support. The trading range between the resistance at $3,350 and the moving averages, which were pushing the price up, was getting narrower for Ethereum.
So, the breakout finally came and it wasn't a surprise that it happened to the upside, since the lows were getting higher after every pullback. Now, ETH/USD has resumed the bullish trend, so the situation for buyers looks pretty good in this time-frame as well.
The fundamental situation also looks pretty bright, backing this rally in ETHEREUM. Developers have been planning significant upgrades to the Ethereum blockchain, in order to tackle the cost and transaction speed, which have both been a growing problem for Ethereum, with the spurt in popularity this year. Transaction volume has remained frustratingly unchanged for the network, as it continues to operate near its limits. Developers are preparing for the Layer 2 rollup scaling solutions, and have raised $120 million for this. This layer will be on top of the Ethereum network, and will handle transactions separately, which will be cheaper and faster. Transactions will still be recorded to the Ethereum blockchain, in batches. So, Ethereum 2.0 will help it emerge from the shadow of Bitcoin.