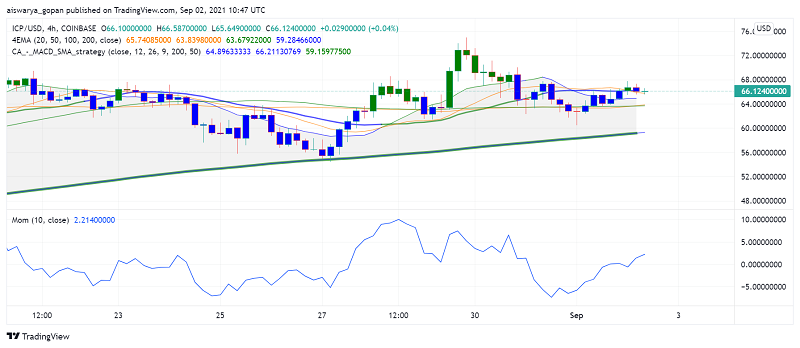 Internet Computer ICP Makes a Big Splash Into the World of NFTs
Internet Computer coin ICP is on a bull run early on Thursday, strengthening by over 6% as it gets in on the NFT craze, initiating an exciting debut into the space by releasing 10,000 NFTs on the network for free. At the time of writing, ICP/USD is trading at around $66.12.
ICPunks is the Internet Computer's maiden attempt at a foray into the NFT space, and features a concept of a meme inspired by the Insane Clown Posse and CryptoPunks. In just a few hours since it launched on Wednesday, the collection has been sold out, giving the blockchain network a fresh use case and driving up activity, helping the ICP coin's value climb higher.
After the phenomenal success of its dip into the NFT space, Internet Computer is planning to launch the ICPunks marketplace to allow users to trade, buy and sell their collection using ICP tokens. The next quarter will see the marketplace open to other NFTs as well and launch the first ever NFT marketplace on the blockchain. The launch will see the release of one more small collection of NFTs which will be distributed among the community of supporters.
2022 is likely to bring more exciting features into the Internet Computer Protocol's ecosystem. ICPunks is planning to start working with cross-chain solutions to allow users to bring NFTs from Ethereum and Binance Smart Chain into this blockchain network as well. This feature will likely drive up greater interest in the use of this new generation blockchain and further boost the price of ICP in the coming months.
Meanwhile, the Dfinity Foundation – the firm behind the development of the Internet Computer Protocol, distributed grants worth $1 million to promising developers and entrepreneurs for creating dApps and other interesting projects on the ecosystem. There is also a proposal floating within the community to increase the memory of its canisters to make smart contracts more efficient on the network, and if this goes through, it can make its mark in the DeFi space as well soon.
Key Levels to Watch
On the H4 price chart of ICP/USD, moving averages and leading technical indicators MACD and momentum are suggesting a strong bullish bias among investors currently. Internet Computer coin's price is sitting right under the pivot point at $67.20 which could be tested soon.
A break past this will confirm the bullish momentum and send ICP higher to test resistance at $79.86 and then again at $87.63.
Cryptocurrencies were showing strong bullish pressure in the first two months of 2023, but the bullish momentum has faded
2 weeks ago