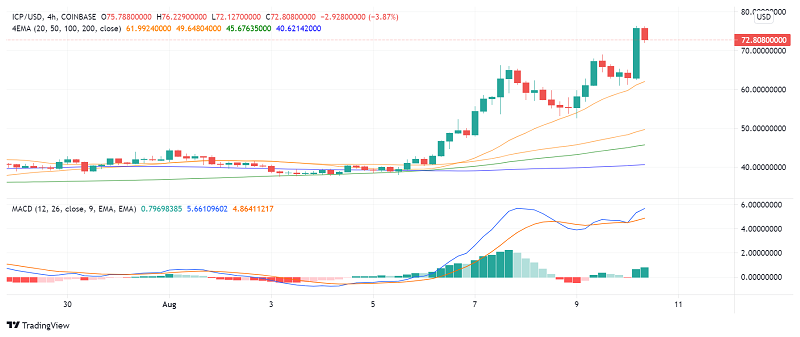 Can We See a Spurt in Internet Computer Protocol (ICP) Price and Adoption Soon?
The upbeat mood in the crypto market is driving a strong bullish rally in the smaller altcoins, with Internet Computer Protocol (ICP) being one of biggest gainers early on Tuesday. At the time of writing, ICP/USD is trading around $72.80, up by over 88% in the past week.
Touted as one of the hottest new launches in the world of cryptocurrencies during its launch during the bull run this market was experiencing earlier this year, the Internet Computer coin has seen its value soar to an ATH of over $737 and then crash sharply to trade at less than one-tenth of its ATH till date.
However, one of the fastest growing projects in the world of blockchain is poised to register higher gains in the near term as long as the upbeat mood supports bullish moves in the larger cryptocurrencies, especially Bitcoin and Ethereum. As on date, there are over 3,500 canisters or smart contracts running on the ICP's blockchain network, rising steadily since May this year.
After having catapulted into the top 10 cryptocurrencies by market cap, Internet Computer coin saw an unceremonious drop from the list, but still remains among the top 20, according to Coinmarketcap data. The 16th largest crypto by market capitalization supports several dApps in the social media and finance related sectors, and its maker Dfinity Foundation remains optimistic that traction could grow even further by the end of this year.
What works in ICP's favor is that it runs on a decentralized network and uses dedicated hardware provided by independent players, giving it greater speed than a conventional blockchain network. While some of the larger networks take as long as 30 minutes to perform transactions, Internet Computer's network processes transactions within 3-5 seconds, supporting its goal of making the public internet far more functional than it is at present.
Key Levels to Watch
Analysis of the 4-hour chart of ICP/USD reveals a strong bullish bias among moving averages and the MACD indicator. However, the momentum indicator is flashing sell at the moment, suggesting some interest among sellers at the moment as well.
Internet Computer coin's price has crossed the pivot point at $53.02 and buyers have successfully broken the first resistance level at $68.44. Further buying interest can see the ICP test the next resistance at $81.59 and a break past this can take it past the key $100 level.
Cryptocurrencies were showing strong bullish pressure in the first two months of 2023, but the bullish momentum has faded
3 weeks ago