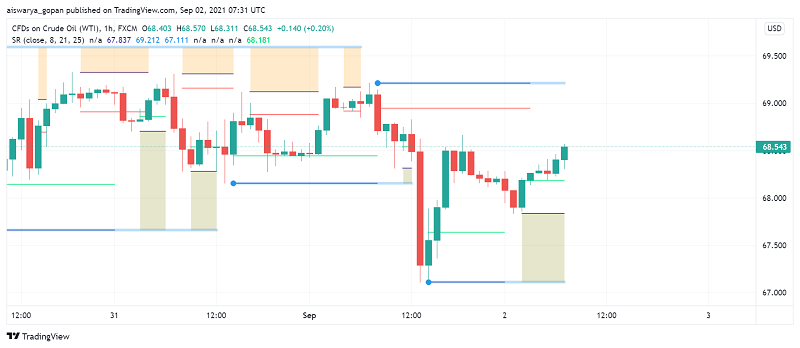 WTI Crude Oil Slides Down as OPEC+ Continues to Boost Production
WTI crude oil prices are sliding lower into Thursday, a day after the OPEC+ meeting in which leading oil producers decided to stick with their plans to gradually ease their supply cuts over the coming months until the end of the year. At the time of writing, WTI crude oil is trading at around $68.54 per barrel.
Previously, OPEC and its allies had decided to increase oil supply by 400k bpd every month until December, supported by optimism that oil demand would pick up as economies around the world started to recover from the pandemic-driven crisis. However, the spread of the delta variant forcing countries to go back into lockdown mode or bring back restrictions raised fears among traders that oil demand would weaken once again.
This caused some uncertainty in oil markets, with some expecting OPEC+ countries to react to the latest spike in infections by possibly cutting back on their plans. However, the meeting revealed that they wished to go ahead with increasing production, sending more oil into global markets and driving prices lower as a result. In addition, OPEC+ also revised their global oil demand forecast for next year higher even as the US continues to put pressure on the group to hike up production to contain the steep rise in crude oil prices seen recently.
Crude oil prices are also facing pressure in to the aftermath of Hurricane Ida in Louisiana, US, where oil refineries could take some weeks to resume operations. Refiners in the region are experiencing power and water shortages, holding back their operations which could dent the demand for oil in the coming weeks.
Losses in crude oil, however, remain limited by the EIA reporting a sharp decrease in crude stockpiles in the US over the past week. The EIA report which released in the previous session revealed a 7.2 million barrel decline in US crude inventories, higher than economists' forecast and offering some hope to investors of a pick-up in oil demand across the world's largest energy consumer despite the rise in COVID-19 infections.