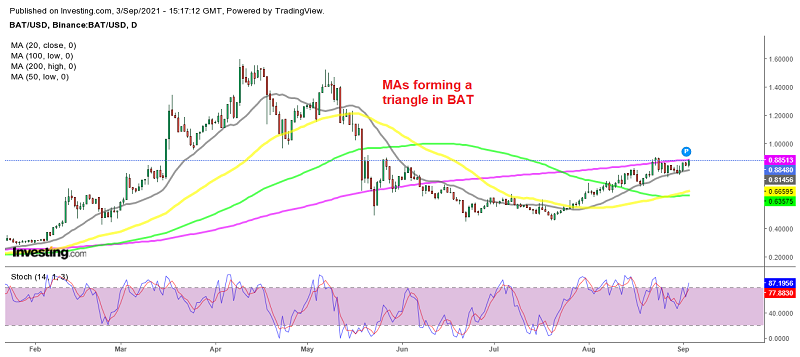 Basic Attention Coin Analysis – MAs Squeeze BAT Coin Into A Tight Corner
Basic Attention Token BAT had a great run during the first few months of this year, as it surged from around $0.20 at the beginning of the year until $1.60, which means an 800% increase in value. But, BAT stopped making new highs in April, and in may it crashed lower together with the crypto market.
BAT token fell to $0.44-45 on my crypto broker page, with moving averages pushing it down until the bullish reversal in late July in the crypto market. BAT coin pushed above the 20 SMA (gray) and the 50 SMA (yellow) which were pushing it down during the bearish period and it seems like the 20 SMA has turned into support for BAT on the daily chart.
That moving average has acted as support a few times already, pushing the lows higher for BAT/USD. Although, the 200 SMA (purple) has been acting as resistance at the top. So a triangle has formed in this crypto and the trading range is getting extremely tight. The breakout is expected to the upside, since the sentiment in the crypto market has turned quite positive again.
Besides that, the Brave browser which rewards users with BAT coins is collaborating with the Gemini Exchange and to make it easier to trade BAT. The BAt coins earned from using the brave browser will be allowed to be deposited into their Gemini account through the Gemini User Wallet. Apart from crypto wallets, the Gemini Trading Widget will also be added to the browser network.
Does it mean we can trade right from the browser while watching videos? let me check because I have been using Brave and it works pretty fast, probably better than Google Chrome. So, positive development for Brave and for the BAT token as well, which means that the breakout to the upside will come soon. We might even buy the breakout here, or perhaps we will wait for a pullback and a retest of the 20 SMA from above. If it holds, then that will be a strong sign to buy.