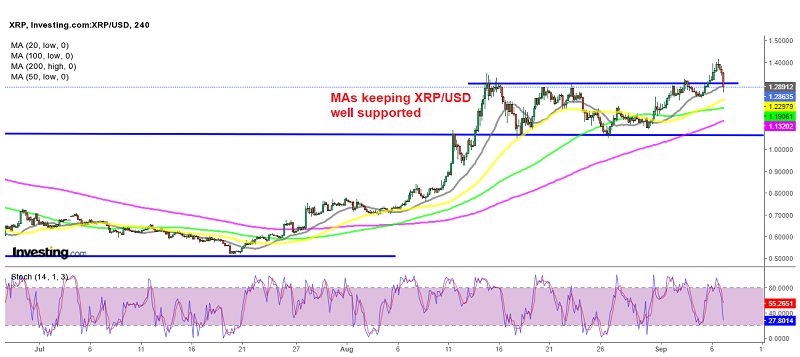 Where to Buy XRP/USD After the Retreat in Ripple Coin Today
Ripple coin was trading in a range for about two weeks, bouncing between the support around the $1.05 area at the bottom, while the resistance at the top came at around $1.30. The legal battle with the SEC (Securities and Exchange Commission) has played its part in this range-bound trading, as it keeps going through twists and turns, but the stagnation in the crypto market was the main reason for the range trading.
However, the resistance was broken yesterday, as the sentiment in the cryptocurrency market turned bullish, with BITCOIN touching $53,000. But Bitcoin reversed back down today unexpectedly, pulling the market down with it, but that's not unusual in the crypto market.
has reversed lower as well, giving back more than 15 cents as the price retreated from around $1.41 to $.26. Moving averages were helping buyers during this time, acting as support on the H4 chart. The 20 SMA (gray) was the last one to do so and it might be doing that job again now after the reversal. The price is trading right at this moving average now after falling below the resistance level again.
Although, the decline has stalled now, so there is a good chance that the price will bounce off the 20 SMA again, once the sentiment turns bullish in the crypto market. The stochastic indicator is becoming oversold, so we might see a reversal higher soon. If not from the 20 SMA, then the 50 SMA (yellow) will be next, at $1.23, followed by the 100 SMA (green) around $1.18, the 200 SMA (purple) at $1.14 and ultimately the support at $1.05.
Ripple Coin Analysis – XRP/USD Daily Chart
The 20 SMA has turned into support for XRP/USD
Looking at the daily timeframe chart, we see that the 20 SMA has turned from resistance into support, after Ripple bounced off this moving average twice last month, as we mentioned in our 2021 Ripple forecast. Now, this moving average is the ultimate target, so it should offer some decent support at $1.17 where it stands. Although sellers seem exhausted now, unable to push lower, so we might actually see a reversal from here.
But, we will have to keep an eye on Bitcoin and the crypto market to see when the bullish reversal will come, because at the moment Ripple is following the market. We still have our buy Ripple signal open here, so we're keeping that trade open, hoping for $1.50 at least.