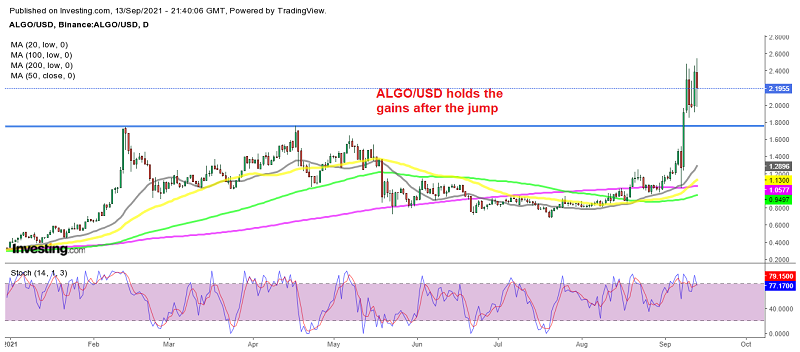 Algorand Coin Price Analysis – Crypto Crackdown in South Korea Doesn't Affect ALGO/USD, Which Keeps the Gains
Cryptocurrencies have performed quite well since the bullish reversal in July, but some have totally exploded higher. Solana, Fantom and Axie Infinity are some of the cryptocurrencies that have appreciated many times over since July's lows, and Algorand joined the big winners last week, as it surged higher as well. Now, it is the only crypto that has remained standing.
Algorand Coin Live Chart
[[ALGO/USD-graph]]
Algorand played a little game last Tuesday, diving down from above $1.50 to $1.02 in a quick move, as the crypto market went into a flash crash, after El Salvador adopted Bitcoin as a national currency. Cryptocurrencies should have gone up, but they crashed, as big money is trying to fight cryptocurrencies, to prevent them from entering the mainstream finance world. They tried to make an example of El Salvador this time, but didn't succeed, as the crash stopped pretty quickly without much damage being done.
All cryptos continue to have a bearish bias, but not Algorand. In fact, ALGO/USD turned bullish after the flash crash and made new all-time highs, as it broke above the February/May highs of $1.75. The 200 SMA (purple) held as support, and the price bounced off off it, jumping to 42.48 initially last Thursday, and making new highs of $2.55 yesterday.
Algorand Analysis – Algorand H4 Chart
The 20 SMA has turned into support for Algorand
On the H4 chart, we see that the price bounced off of the 200 SMA (purple) as well, which provided support, while now the 20 SMA (gray) has turned into support. This moving average held on the first retreat after the new all-time high last week, and it held for a second time yesterday, after Algorand made a new high.
So, the 20 SMA is pushing Algorand higher, showing that the buying pressure is strong, since buyers are not waiting for larger moving averages to catch up. Instead, they're jumping in at the first opportunity, which is the 20 SMA. But more than that, the fact that Algo has remained bullish, when most of the market turned bearish, is a very strong bullish sign. Even the other bullish cryptos that we mentioned above, such as Solana, Fantom, etc., have retreated, while Algorand has continued to run higher.