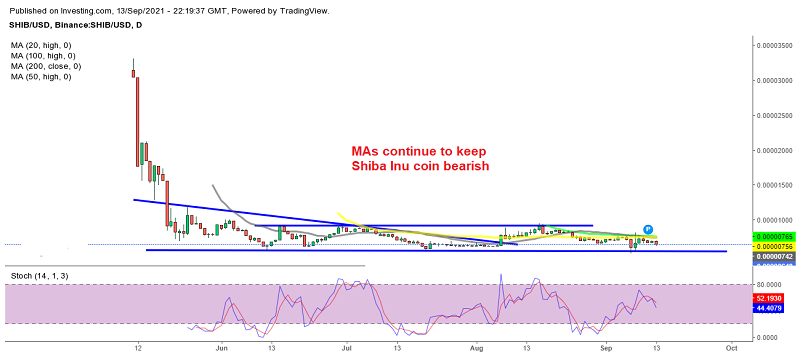 Doge Coin (Doge) and Shiba Inu Coin (SHIB) Price Analysis – Crypto Market Drags Meme Coins Down, Even Though Trading Volume Exceeds $1.5 Billion
Meme coins received market attention earlier this year, as Elon Musk kept making comments about Dogecoin, which impacted the Shiba Inu coin as well, since these two cryptocurrencies are closely correlated.  Musk has billions in cash, which means that he can impact a meme coin with his wealth, and he also has people on the Dogecoin foundation, which means that he has feedback on what's going on behind the curtains in Dogecoin, hence the impact he has on these cryptos.
Elon Musk posted a picture of a Shiba Inu dog that he adopted recently, but that's not helping the Shiba coin or Dogecoin, as they remain quite bearish. The sentiment in the crypto market has turned bearish since Tuesday last week, when the market crashed down after El Salvador adopted Bitcoin as legal tender, and it has been dragging meme coins down as well, not that they were particularly bullish in the first place.
The trading volume in the Shiba Inu coin exploded after the listing on Coinbase Pro, even exceeding $1.5 billion, but there was no jump in the price. I assume that traders were both buyers and sellers. We did see a spike when they officially announced that Shiba would be listed on their crypto exchange, but the price came back down and the bearish momentum resumed.
We don't know if that spike in SHIB/USD, from above $0.0000050 to $0.0000080, came as a result of that listing, which happened 2 days later, or if it was some big player getting in on the long side after the support below $0.0000060 was broken, and many trades hit the stop loss. This happens quite often in Forex, so it's not a surprise when it happens in cryptos as well.
The 200 SMA has turned into resistance again
The daily trading volume also increased for Dogecoin, after Elon Musk's tweet, but we are not seeing any buying pressure here either. DOGE/USD fell below the 200 SMA (purple) on the daily chart again, and now this moving average seems to have turned into resistance. Sellers continue to remain in control, with buyers nowhere to be seen. So, meme coins continue to be bearish; which means that it is not a good time to buy them right now. If the sentiment in the crypto market changes, then we might look to buy one of these coins, but for now we are on the sidelines.