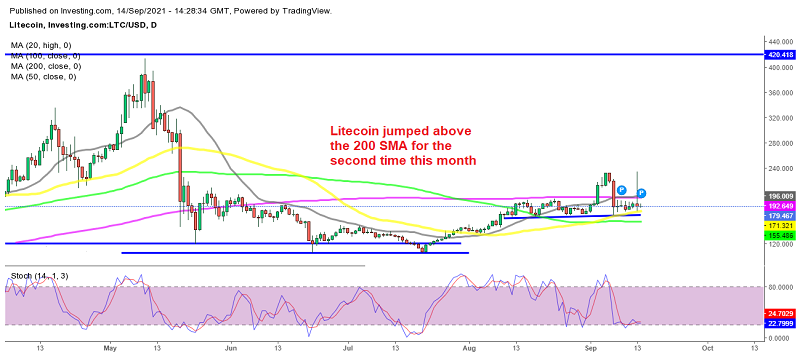 Litecoin LTC Crypto Price Prediction – Cashing In On Our Litecoin Signal After the Spike
Litecoin hasn't seen many development to drive it higher, like Ethereum with the London/ETH 2.0 hard fork or Cardano with the Alonzo update. Litecoin has mostly followed the crypto market up and down. It topped at $413 in May, which is still below the all time high of $420 for this cryptocurrency and crashed lower that month, losing 75% of the value.
It turned bullish in July and doubled in price as it climbed above $200, but then the flash crash came last Tuesday and the price tumbled down to $160s. That's where this cryptocurrency has formed a support zone, just above $160 which has been holding for more than a month. We opened a buy signal in LTC/USD , hoping that it would bounce off that support area.
Yesterday, something interesting finally happened to Litecoin. it suddenly jumped higher $235 where it reversed just as quick. The reason for that jump was an article on GlobeNewswire saying that Walmart which is the biggest retailer in the U.S., would accept cryptocurrency for payments using litecoin.
That was enough to send Litecoin surging, although that would have been great news for Litecoin. But, it turned out to be fake news and Walmart's officials confirmed that the news is not authentic and they are investigating how the fake release was published.
Litecoin dived back down in just one hour, making the $70 round trip. That was enough for us, since we had placed the take profit target below last week's high, so that spike hit our target and we booked some nicc profit in Litecoin. Now, LITECOIN is back at the support zone and the 50 SMA (yellow) has caught up with the price on the daily chart. So, we are thinking about opening another buy forex signal here, with the same target pretty much and a stop belwo August'slowe at $130.