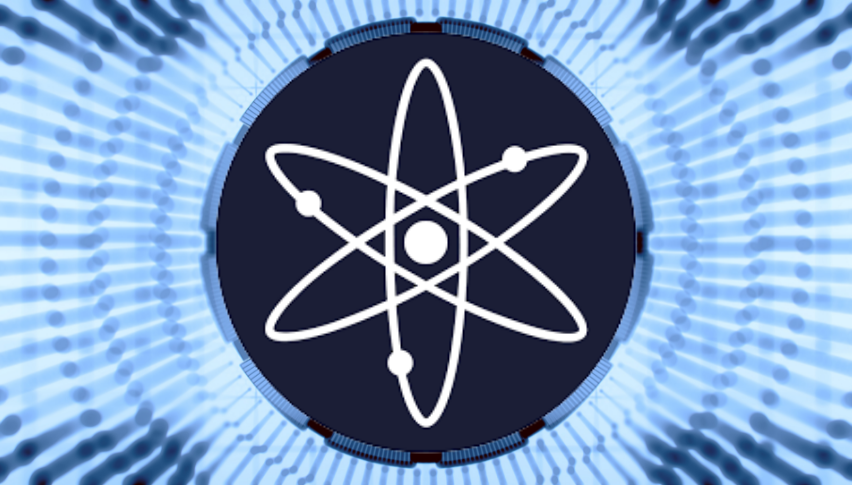 Cosmos Pauses after a Fresh ATH. Consider a Buy after a Retracement
Posted Friday, September 17, 2021 by
Eric Nkando
• 2 min read
Cosmos (ATOM/USD) has been a crypto on the run. The cryptocurrency recovered quickly from the crypto crash on September 7, to surge past the resistance around 26.5 on September 9. It then rose again, to hit a fresh all-time high of almost 39 on September 14.
At the time of writing, ATOM/USD was trading at 35.6 and potentially retreating down. I see a potential short-term bearish move as buyers take profit following the strong bullish run.
But, ATOM/USD's bullish move is far from over if data supporting its growing popularity is anything to go by. Remember, Cosmos refers to itself as the "Internet of Blockchains." It promises to address the slow, unscalable, costly, and often environmentally harmful protocols by enabling connections between different blockchains. 
Now, IBC functionality on Cosmos has contributed to the increased activity on the blockchain. Cryptoslate reported that as of September 14, the interchain protocol had handled 780,000 transfers in the last month, with a transaction volume of 3.2 million. 
In 30 days until September 14, ATOM/USD surged from a low of around 15 to it's all-time high above 38. In our previous outlook, we predicted a bullish move after the Inter-Blockchain Communications Protocol (IBC) was brought to Cosmos on August 17. Up to now, buyers are clinging to that development, with the recent surge supporting it, and that could push ATOM/USD further to the upside. But, should you buy it today?
ATOM/USD – A Technical Outlook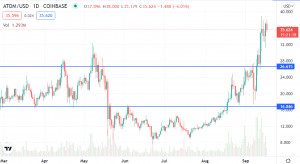 Cosmos Daily Chart Analysis
From the daily chart, we can see that ATOM/USD is retreating from it's all-time high. I project a further drop before the crypto token resumes the uptrend. However, ATOM/USD could continue with the jump, and if this happens, I will stay on the sidelines until a perfect buy opportunity comes up.
ATOM/USD Trade Idea
There is no clear support area for ATOM/USD at the current price level. However, I consider the area around 26.62 as potential support. Prices tested this level, turning it into a resistance before breaking past it to the new all-time high. If prices retreat to 26.62, I will enter a buy trade upon confirmations via bullish trade signals. 
Alternatively, ATOM/USD could retreat to the previous all-time high of around 32.2 before bouncing back. However, we need to see clear buy signals at this level, since prices have only tested it only once. Good luck!