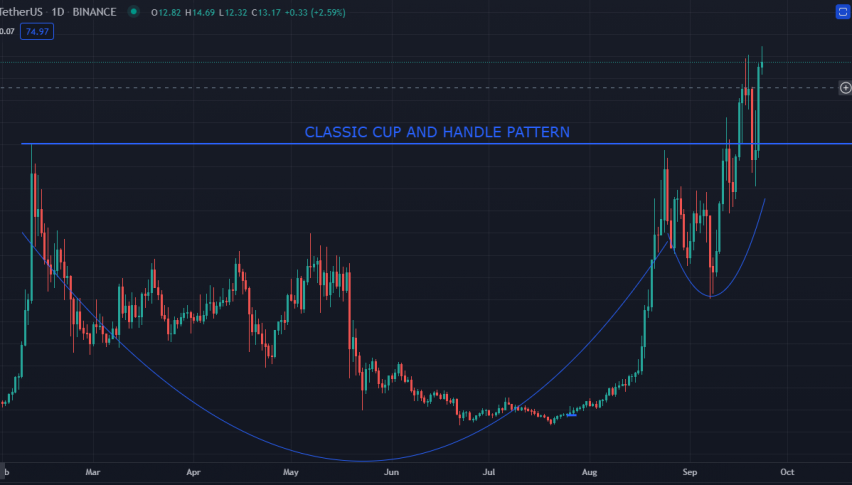 Avalanche (AVAX): Top Defi Coin Hits All-time High Despite Recent Crypto Volatility
*AVAX formed a classic bullish cup and handle pattern as it rallied past 60.00
The crypto market has been fraught with tremendous levels of volatility and FUD in the past few weeks, culminating in the spillover of fear into the global financial markets, due to the Evergrande default situation in China. But despite the uncertainty in the global and crypto markets, AVAX seems to have simply bucked all pullbacks and corrections, with rallies towards all-time highs.
Three Times a Charm
It took AVAX three tries to break out above the 60.00 resistance level. The first time was on February 10 this year, the second followed on August 24, and the most recent occasion on which it succeeded in trading higher was on September 12. This breakout, however, was not as clean as most would have liked, as it fell, undercutting the resistance level a few days later, before surging to new all-time highs again.
What is Avalanche?
Avalanche (AVAX) is currently the 11th largest cryptocurrency, with a market capitalization of $16.5 Billion. It is a smart contracts platform that boasts cheap, fast and easy transactions in the blockchain. AVAX is the utility token of Avalanche, which can be used to pay fees and conduct staking on the platform.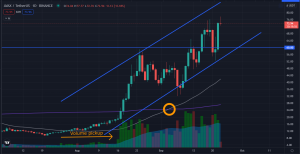 *AVAX: Upward channel, Golden Cross formed with good volume
AVAX Technical Analysis
Looking deeper into the technicals of AVAX, it looks like it is now trading in an upward channel, along with a tremendously explosive trading volume, as it rallied above its 200-day moving average (purple line) on August 17 this year. It has also formed a bullish Golden cross, as the 50-day moving average (gray line) has crossed over the longer-term 200-day moving average.  This is a positive but lagging indicator often used by technicians to determine the overall sentiment surrounding a cryptocurrency.
What to expect?
Situation 1: Consolidation. What we would like to see from AVAX is a proper consolidation above the previous key major resistance level of 60.00. A basing pattern, like a pennant or volatility contraction pattern above this resistance level, in the next weeks or months, would be ideal for AVAX. This would make the upward move in AVAX more sustainable.
Situation 2: Momentum. A more bullish perspective would be if AVAX were to take on a momentum phase and show explosive price action, reaching 80 or even 100. However, at the time of writing, there seems to be no indication of this happening yet. Watch out for a possible one to three-day pause or pullback with low trading volume and price range. This could suggest a momentum rally in the near future.
Situation 3: Breakdown. At this point, AVAX should not fall back below the 45.00 level, as this would mean a breakdown of the upward channel and possibly selling down back towards the 200-day moving average.