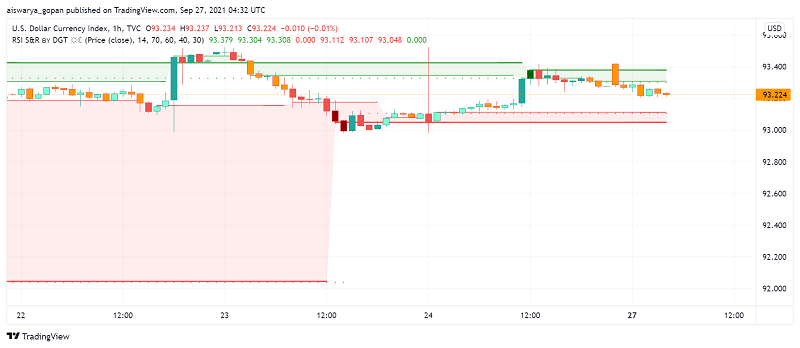 Market Sentiment Improves But Fed's Statements Support US Dollar
The risk sentiment in global financial markets is back on the rise, sending safe haven currency Japanese yen to the lowest levels seen in almost three months while leading commodity currency Australian dollar makes its way higher. Meanwhile, the US dollar is holding mostly steady against other leading currencies, with the dollar index DXY trading at around 93.22 at the time of writing.
Despite the risk-on sentiment among investors, the US dollar is enjoying support from an uptick in US Treasury yields, which have risen to the highest levels seen since July. The increase in bond yields came on the back of the Fed signaling its readiness in tightening the monetary policy sooner than previously anticipated.
Last week at its policy meeting, the US central bank stated that it would begin tapering its monthly asset purchase program by November. In addition, policymakers also anticipated a rate hike coming soon, with around 50% of FOMC members expecting the Fed to increase interest rates by as early as 2022.
The market sentiment reversed from downbeat after China's Evergrande debt default concerns started fading late last week. This drove investors back into riskier instruments like equities and commodities, which continue to trade higher at the beginning of a fresh trading week.
Meanwhile, rising commodity prices are supporting bullish moves in currencies such as the AUD and NOK. The common currency EUR continues to trade steady into Monday, unaffected by political developments in Germany following the conclusion of elections over the weekend.
Looking ahead, analysts forecast range-bound trading in the US dollar, with bullishness from a hawkish Fed being offset by its safe haven appeal dipping amid easing concerns about the Evergrande crisis. However, the reserve currency could enjoy support from any developing risks, on the Evergrande front or due to COVID-19's impact on global markets in the near-term.