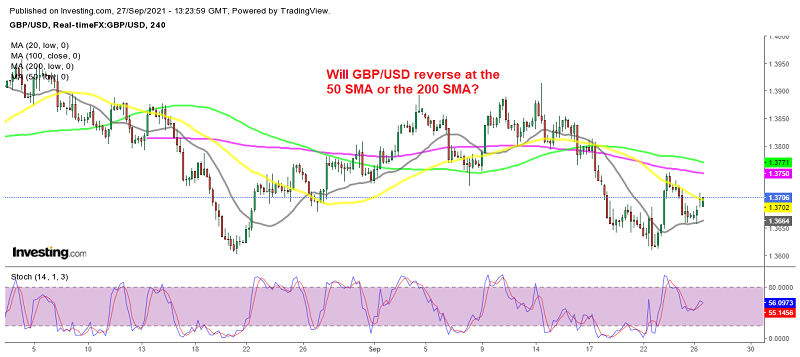 Selling GBP/USD As UK Faces Petrol Shortages
A while ago, we decided to open a sell forex signal in GBP/USD, as this pair was finding resistance at the 50 SMA on the H4 chart. The price formed a doji candlestick right at that moving average, which is a bearish reversing signal. This moving average has worked as support and resistance for this pair before, so we decided to sell GBP/USD.
But, the main factor has been the petrol issues in the UK. There seem to be some Oil shortages coming from transportation, but the real reason we know is the renewable energy plans from main global institutions, which is going to have a negative impact for the GBP, so we think that GBP/USD will reverse down, hence the sell forex signal.
The UK Petrol Retailers Association warned that fuel is starting to run dry in some areas of the country as delivery problems and panic-buying has resulted in a rather problematic shortage in the past week or so. UK PRA says members reporting 50% to 90% of petrol stations running dry in some areas. It is a bad time for the UK economy to be hit with such a problem.
This is just yet another problem for the economy in general as growth conditions are winding down after peaking during the summer and the ongoing hit to supply chains and capacity constraints have stifled the recovery process going into Q4.
More on the UK shortage of fuel delivery drivers, with plans for army intervention
Some petrol (OK, gasoline if you insist) outlets in the UK are having trouble getting an adequate supply. The UK press now report government Ministers have discussed contingency plans for soldiers to drive petrol tankers to forecourts. Plans would be acted upon if there is significant further deterioration in the supply situation. Motorists have been urged not to stockpile buy.
One problem after another
There's no bigger environmentalist than me but cutting off investment in fossil fuels why the world is using as much oil and gas as ever is only going to lead to more of what we're seeing in Europe at the moment.
ITV cites BP who says it's having difficulty transporting fuel, but there's no shortage. That's certainly true, there's plenty of oil in Europe. Update: BP says it's due to the truck driver shortage.
Natural gas on the other hand:
Meanwhile, Mario Draghi is saying that Italian electricity prices could rise 40% in the next quarter and gas prices by 30% without government intervention.
Yesterday the Eurozone and particularly the UK services and manufacturing PMI figures improved this month while today we have the US numbers
1 week ago