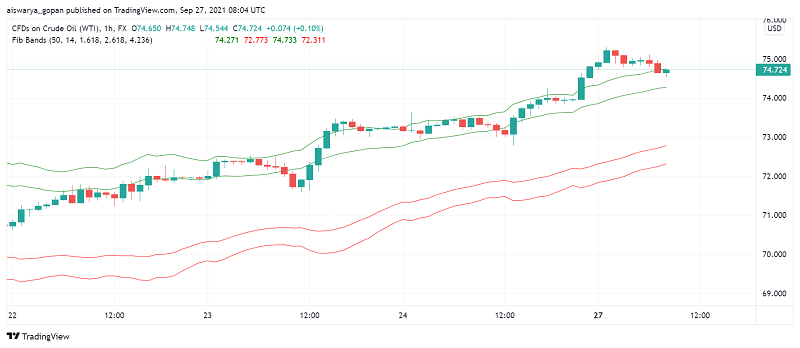 WTI Crude Oil on the Rise For Fifth Straight Session Amid Supply Worries
WTI crude oil is starting the brand new trading week on a strongly bullish note amid rising worries of tightening supply, especially with the UK reporting shortages across fuel pumps amid panic buying by consumers. At the time of writing, WTI crude oil is trading at around $74.72 per barrel.
On Sunday, BP announced that almost one-third of its British petrol stations had run out of fuel after oil companies across the nation warned that a shortage of drivers had caused issues in transporting fuel from refineries. This resulted in panic buying with consumers queuing up for several hours to fill fuel in their vehicles, and the surge in demand has driven oil prices higher.
In other parts of the world as well, with pandemic-driven restrictions being eased, there has been a strong rebound in oil demand while the supply side struggles to keep pace with the surge. This has caused crude oil prices to rise for the fifth consecutive session, with WTI oil touching the highest levels seen since July.
Meanwhile, crude oil is also enjoying support from an uptick in natural gas prices as this makes oil more affordable in comparison for generating power. Analysts have noted that oil supply remains tight across most parts of the world, a factor that can keep prices high in the short term.
In addition, OPEC+ have also been experiencing challenges in increasing output corresponding to the sharp rise in demand. Under investment and maintenance delays are exerting further pressure on the supply side, preventing leading oil producing countries from raising their oil output.
Crude oil finds additional support from news reports that India saw its oil imports surge to the highest levels since three months as oil refiners build up their inventories in anticipation of further strengthening in demand. India is one of the leading oil importers in the world and an uptick in imports by India is a key driver in oil's bullish moves lately.