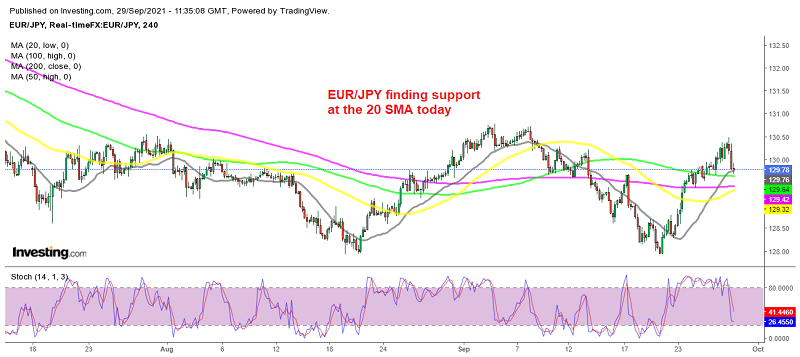 Buying the Retreat in EUR/JPY as MAs
Posted Wednesday, September 29, 2021 by
Skerdian Meta
• 1 min read
EUR/JPY used to be on a strong bearish trend, with the sentiment in the forex market remaining negative or uncertain. As a result, safe havens such as the JPY have been in demand, which means that EUR/JPY was declining lower.
The uncertainty continues, but the situation in the market seems a bit lighter/clearer now, hence the bullish reversal in USD/JPY , which has sent this pair higher in the last week. Moving averages have turned into support, so we decided to open a buy forex signal earlier today, after the Eurozone consumer confidence, which improved compared to August. Below is the report from the Eurozone:
Consumer Confidence Report from Eurostat – 29 September 2021
September final consumer confidence -4.0 points vs -4.0 prelim
Economic confidence 117.8 points vs 116.9 expected
August consumer confidence was 117.5 points
Industrial confidence 14.1 points vs 12.5 expected
August industrial confidence was 13.7 points
Services confidence 15.1 points vs 16.5 expected
Prior services confidence was 16.8 points
Eurozone economic sentiment edges up in September, beating estimates of a drop – aided by an improvement to industrial sector sentiment as services declined on the month.
That said, the more pressing detail in the report is that on prices. Selling price expectations among manufacturers rose to 38.2 from 37.3 in August, setting a new record high in the survey while consumer inflation expectations rose to 33.1 from 31.1 in August – closing in on the record from August 2001 at 38.7.