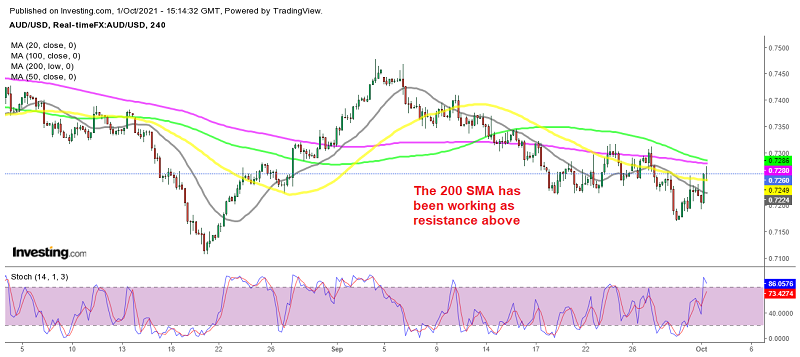 Selling AUD/USD After US ISM Manufacturing Climbs Above 60 Points Again
AUD/USD used to be one of the most bullish pairs, until earlier this year. But, it has turned bearish now, with the USD gaining some momentum, while restrictions and lockdowns in Australia are hurting the economy and the Aussie. We have seen the Australian retail sales remain negative for several months now, while the US economy has been surging during the same period and continues to remain in a good shape.
It seems like we are seeing another hawkish period now after the cool-off of the previous few months, with the manufacturing sector surging higher again. ISM manufacturing increased above 60 points in September as today's report showed, so we decided to open a sell signal in AUD/USD and another one in NZD/USD.
US September ISM manufacturing data
September ISM manufacturing 61.1 vs 59.6 expected
August ISM manufacturing was 59.9
Prices paid 81.1 vs 78.5 expected (prior was 79.3)
Employment 50.2 vs 49.0 prior
New orders  66.7vs 66.7 prior
More details:
Production 59.4 vs 60.0 in last month
Supplier deliveries 73..4 vs 69.5 last month
Inventories55.6 vs 54.2 last month
Customer inventories 31.7 vs 30.2 last month
Backlog of orders 64.8 vs 68.2 last month
New export orders 53.4 vs 56.6 last month
Imports 54.9 vs 54.3 last month
There are no big moves here but the longer supply chains remain constrained, workers remain hard to find and order books build, the more the problems build up and the longer they take to resolve.
Comments in the report:
"Many electronic components and assemblies shortages showing up (due to) port issues, lack of containers and other issues. Problematic, but nothing completely shut down yet. Watching COVID-19 restrictions country by country." [Computer & Electronic Products]
"The impacts from Hurricane Ida on the petrochemical industry has put additional stress on an already fragile supply chain. Logistics with intermodal containers and motor carriers continues to be a challenge for planning deliveries of materials." [Chemical Products]
"In the U.S., labor availability is the most significant supply challenge for our company, with raw materials just behind. Plastic resin, polyurethanes, small-volume steel purchases and electronics are the biggest material challenges." [Transportation Equipment]
"Lack of labor and escalating costs from every direction are very concerning." [Food, Beverage & Tobacco Products]
"Ocean freight delays creating disruptions in many areas. Southeast Asia supply continues to be challenged due to COVID-19 outbreaks." [Furniture & Related Products]
"Delivery and availability of raw materials, primarily carbon steel, are becoming more and more difficult to source. This has resulted in delaying order deliveries. Computer numerical control (CNC) machining services are at a premium; it's difficult to get the deliveries needed to complete jobs. Traditional in-house machining now has to be outsourced due to a lack of experienced machinists. All this has had a negative impact on production throughput." [Fabricated Metal Products]
"Customer demand continues to swell as we prepare for the fourth quarter, and overall growth has been extremely good for the year. Supply chain concerns are growing beyond electronics and chips into most other commodities. Lead times are extending, shipping lanes are slowing, and we will not see an end to this in 2021." [Electrical Equipment, Appliances & Components]
"We are still amazed by the labor market. We used to have 100 applicants for an opening; we are now seeing about 10 – and often, the applicant does not show for the interview." [Paper Products]
"Our company's entire supply chain continues to have significant challenges getting manpower, which is impacting production of parts and ability to meet daily build schedules. Additionally, the logistics problems – especially port delays and a shortage of shipping containers – are significantly impacting inbound and outbound shipments. Raw materials costs still are at record highs, and we have raised customer pricing, with additional increases in the near future due to labor costs going up. Huge customer orders are nine months out (due to) backorders. Seeing this domestically and internationally." [Machinery]
"Global supply chain constraints are still a major concern and focus. Inventory builds continue to compensate for potential supply disruption." [Miscellaneous Manufacturing]