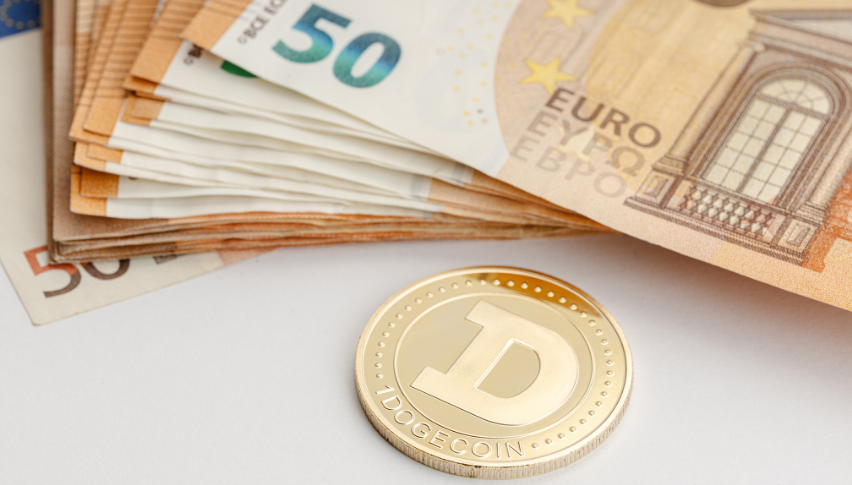 Will Dogecoin (DOGE/USD) Follow Shiba Inu (SHIB/USD) in a Meteoric Rise?
Posted Wednesday, October 6, 2021 by
Eric Nkando
• 2 min read
Well, it's a bright day for Dogecoin (DOGE/USD) enthusiasts. After remaining subdued since the beginning of September, DOGE/USD seems to have found a fresh mojo in October.
The crypto token has gone up 9.91% in the last 24 hours, adding to its 31.45% gains in the last seven days. Positive mentions of meme tokens by Tesla CEO Elon Musk is believed to be behind the recent surge in DOGE/USD.
Nonetheless, DOGE/USD's recent surge is just a drop in the ocean, compared to the meteoric rise of its sister token, Shiba Inu. At the time of writing, SHIB/USD had gained 68.22% in the last 24 hours, taking its total gains in the past week to 209.32%. That's a huge gain for a token that only started surging higher on October 4.
For now, Dogecoin enthusiasts have been asking the following question: Will DOGE/USD replicate the gains witnessed in SHIB/USD, as the two tokens often show similar price trends?
Let's look at DOGE/USD trading to answer this question.
DOGE/USD – A Technical Outlook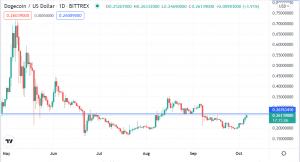 Looking at the daily chart above, we can see that DOGE/USD is fast approaching and testing a resistance level at 0.2676. At the time of writing, the meme token was trading at 0.2614 and looking sharp on the uptrend. 
Possible Break Above Resistance on DOGE/USD
With DOGE/USD sitting below the 0.2676 resistance, we could see some price indecision at the current level. However, we project a potential break above the resistance, given the strong bullish push.
If DOGE/USD pushes above the 0.2676 resistance, we could witness another unstoppable move. Of course, we cannot tell with certainty whether the crypto token will match the parabolic move seen in sister SHIB/USD. However, we will certainly have to wait for prices to break above 0.2676 before witnessing another bullish push. 
Why Bullish on DOGE/USD?
Well, a strong bullish move on SHIB/USD could continue boosting the sentiment surrounding DOGE/USD. The meme community is already getting inspired by Musk's tweet of his dog Floki, which pushed SHIB/USD higher. DOGE/USD could also see another bullish turn, as meme token enthusiasts read between the lines on Musk's tweets.
Another development – Dogecoin is coming to AMC Theatres. A tweet by AMC CEO Adam Aron on October 6 confirmed that the movie theatre will start accepting Dogecoin payments for its digital gift cards. The news adds to the already developing bullish sentiment on DOGE/USD. It cements the meme coin as a viable crypto project, which is not merely being carried along by social media mentions.
DOGE/USD Buy Idea
I would wait for DOGE/USD to break sufficiently above the 0.2676 resistance and the formation of bullish price-action trading signals before entering a buy trade. Prices could also breach the resistance quickly, in a strong bullish push. I would watch price behavior at this level for confirmations of an uptrend and buy entries.
I would then place targets at 0.315, 0.351 and 0.426. The meme token could also rise to previous ATH if these levels are hit successfully in a strong bullish push. Good luck!