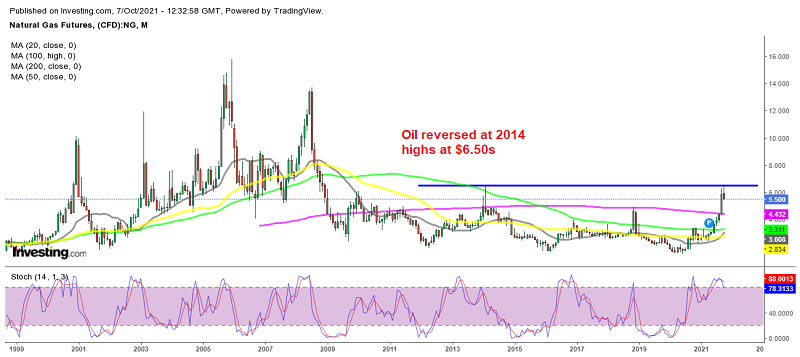 Natural Gas Retreats for the Second Day on Russia's Offer, And This Isn't Even An All-Time High
I don't understand the hype and attention on Liquid Natural Gas (LNG) in the last few months or so. Sure there was an increase in the price and an important break of the 200 SMA (purple) on the monthly chart, as shown on the monthly chart above, but that is nothing extraordinary.
We have witnessed natural Gas trade much higher than these levels before and during the 2003-08 period these highs were considered as the lows, since Gas surged to $16, so $5-6 is not much. The  200 SMA was broken but the previous high from back in 2014 at around $6.50 turned into a resistance level and Gas has been retreating lowers from there.
Liquid Natural Gas Daily Chart – Gas Retreats to the 20 SMA
Will we see another bounce off the 20 SMA or will it break this time?
Looking at the daily chart, we see that gas has been retreating lower for the last two days. The last two daily candlesticks are pretty big and today we're only about halfway until the market closes, so today's candlestick might get even bigger.
Moving averages have been doing a great job as support indicators on this timeframe chart, particularly the 20 SMA (gray) and the 50 SMA (yellow). The last time the price was at the 20 SMA was at the end of September and now it is back down here again.
Soon we will see if Gas will continue the bullish momentum or if it will reverse down and enter a bearish period. So, the 20 SMA and the 50 SMA will be the test for this. If sellers push below the 20 SMA, then the decline will continue until the 50 SMA. If the 20 SMA holds, then buyers will return and we might see higher highs soon.
But, I think that the downside is more in favour now, despite an approaching winter. Russia's Vladimir Putin has offered to help in this situation. He said that Russia could export record amounts of Gas to Europe. This has helped ease Gas and Oil prices, but I think that Oil might continue the upside for some time, while for LNG, this will be the end of the bullish times.