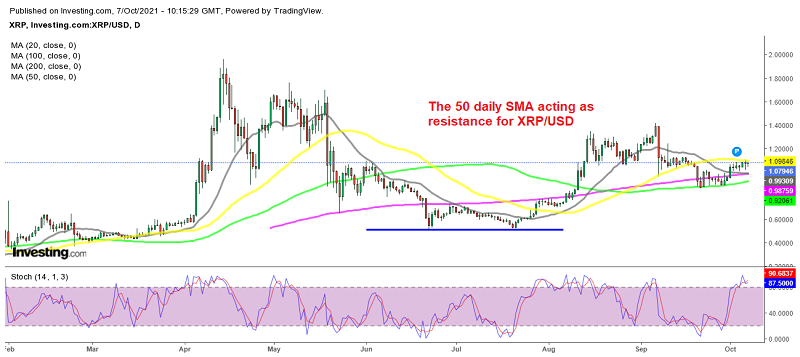 When Will It Be Time for Ripple Coin (XRP) to Jump Higher Too?
It seems like we're at the beginning of another bullish phase in the crypto market. Cryptos are starting to jump higher, making some massive gains, but Ripple coin is failing to make any such gains. This shows weakness in Ripple, but I think that it will join this crypto rally at some point.
Bitcoin has climbed around $15,000 in more than a week, pushing above $55,000 today, Axie Infinity has surged to $160, and the Shiba Inu token has surged by around 500% in less than a week. So, the crypto market has turned bullish, and certain cryptocurrencies are surging higher.
But Ripple coin has been missing out on the rally so far. It has bounced off the 100 SMA (green) on the daily chart, but XRP/USD has been stagnant for the past week, remaining subdued by the 50 SMA (yellow) in this timeframe chart, as shown above.
This moving average was acting as support during the bullish momentum in August, but it has turned into resistance now, stopping Ripple coin from moving higher. Yesterday we posted a Ripple update, where we pointed out that the 20 SMA is acting as support. We also mentioned the bullish reversal here, as shown on the chart below, but Ripple is hesitating to jump higher.
Ripple Coin Weekly Chart – The 20 SMA holding as support
The bounce has started, but it looks weak 
The fundamental side actually looks positive. A judge refused to let Ripple (XRP) holders join the case in defending the Ripple Labs company in the SEC-Ripple lawsuit, but they also commented that this case wouldn't end up with a ban for Ripple, so this is more of a scare tactic, which is part of the bigger crackdown on cryptos. So, Ripple is here to stay.
Besides that, the list of banks partnering with RippleNet has been growing. Yesterday, the Qatar National Bank announced that it would join Ripple in furthering its remittance programme. So, now you will be able to send remittances home through Ripple coin, which makes it easier and less expensive in terms of fees. But, the 50 SMA is holding as resistance on the daily chart, which means that buyers will only be in control when they push the price above this moving average at $1.10.
Cryptocurrencies were showing strong bullish pressure in the first two months of 2023, but the bullish momentum has faded
2 weeks ago