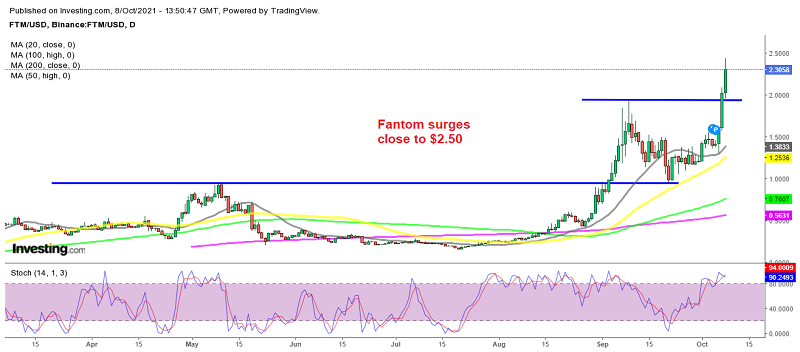 Fantom Price Prediction – FTM/BTC Hits TP Target as the Surge in FTM/USD Extends to $2.50
Fantom has been showing buying pressure in September as well as in the last three days. In the first 10 days of last month, this cryptocurrency surged from around $0.40 to almost $2, while in the last three days it surged from around $1.30 to almost $2.50. The announcement of the $370 million developer programme on this network from the Fantom Foundation, as well as Tajikistan using the Fantom network to launch its own crypto coin, have improved the sentiment for this cryptocurrency.
About two weeks or so ago, we decided to open a buy forex signal in FTM/BTC, as this pair was retreating lower. New blockchain and cross-chain networks have been performing much better than the crypto market average since the previous bearish period ended in July, so after the surge in August and early September in this crypto pair, we decided to open a buy signal at around $0.0000262, as shown on the chart above.
FTM/BTC Daily Chart Analysis – Bouncing Strong Off the 50 Daily SMA
September's highs have been broken now on FTM/BTC
The price was trying to turn bullish so we decided to open the trade/signal here, but the 20 SMA (gray) was acting as resistance on this timeframe chart. It rejected the price but the 50 SMA (yellow) turned into support as soon as it caught up with the price and Fantom bounced off that moving average, surging higher above the 20 SMA. Now, the Fantom price is trading even above September's high, so buyers are in total control.
Our signal is well in profit as well, although we wanted to take this trade in FTM/USD, but we didn't have that crypto listed yet. So, those who followed the FTM/BTC signal have made quite a big profit, and traders who bought FTM/USD are even more so in profit, since the price has doubled in the last several days. Those who are out of this trade, should better wait for a retrace than buy Fantom right now, because we might see a pullback before the next bullish move.