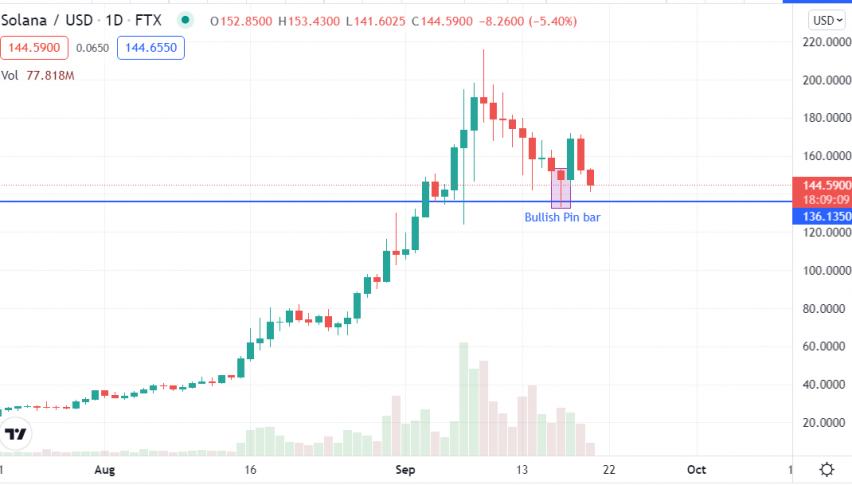 Solana (SOL) Just Shot Up More than 7%, So when Is the Fall Coming?
Solana moved up to $167.45 (SOL/USD) today, briefly increasing more than 7% over 24 hours before dropping slightly.  This crypto hung around the $156 level for most of the last 24 hours, and then just recently started to skyrocket. Early this morning it moved past $160 and then continued past $165, dropped quickly, and then continued back up again.
Solana is actually trying to recover after moving to $176 a few days ago and then dropping down to the $150 level on Wednesday. It's been a struggle for it to gain ground since then. It fought back up past the $160 level on Wednesday later on, but had a tough time holding onto the recovery. Today, Solana is trying to get back up to $160, but today's 7% gain isn't anything special for this crypto when looking at its recent performance.
Solana's Recent Trends
Solana's movement has been somewhat erratic over the past few weeks, with both bullish and bearish trends that don't seem to stick for long. That's made it a great short-term investment, as there is always some sort of movement on the horizon with the SOL crypto. Over the long term, it is not looking as rosy. Solana has trended down over the last month, and while it has started a comeback today, there is no guarantee that it will hold onto that.
Small victories like today's gains are only temporary in Solana's recent history, so expect another slide soon. The crypto may fall again in the next day or two, but for right now, it is on the rise. Solana could continue to climb all day long and even through the weekend, but analysts are expecting it to start to descend by Monday as we see a selloff related to these latest gains. No bearish movement is expected to hold, though, so even if it falls below $150 (which isn't likely), that should not stick.
Expect Solana to hover between $150 and $170 for the time being, and investors can take advantage of that with quick day trading and a close watch on the crypto's trends.