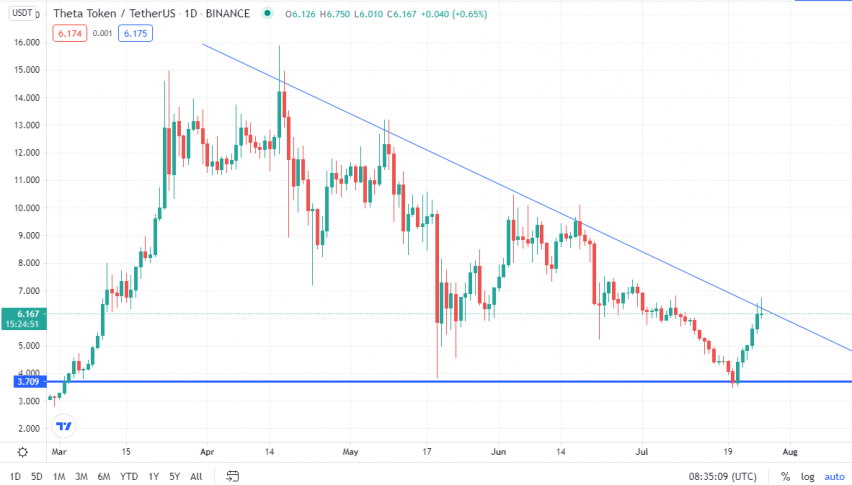 Theta (THETA) Headed Back Toward $6 after Weekend Turn
Theta started the weekend on the way up, pushing toward the $7 (THETA/USD) level like we predicted and stopping just short of that mark ($6.9973). It started to fall immediately after, shying away from $7 to drop down to $6.6892 and then shoot back up to $6.94.
That action all happened before Sunday, and since then, Theta started falling and has continued to do so. It fell another $4.56 over the last 24 hours, down to $6.39 as of this writing.
Theta Price Predictions
Theta often sees a lot of action over the weekend, and this downward trend continuing today is likely going to keep going through the week. We may see a turnaround in a few days, and Theta has been doing well lately, with a huge increase over the last month. Since the start of October, Theta has enjoyed a bullish run. It has moved from $5.0574 to that high of nearly $7 and then today's fall below the $6.50 level. Even though it is down today, don't expect it to move back to those pre-October levels. This crypto is simply too healthy at this point for that to happen.
The downward movement could fall to $6 before it heads back up, and analysts expect that Theta will be buoyed by its current momentum and see a rising price action in the next couple days and even as early as later today. It is not unusual to see Theta drop over the weekend and then surge throughout the week as trade volume increases.
Because Theta has managed a healthy month so far, another bullish run is not out of the question. Investors have seen how well it has done so far in October and may be hoping for a similar performance to that of last month when it rose to $9.577 for a brief time. That may be hoping for too much from the crypto at this point, and it is far more likely to test the $7 level and then move a bit beyond that as well for a time.