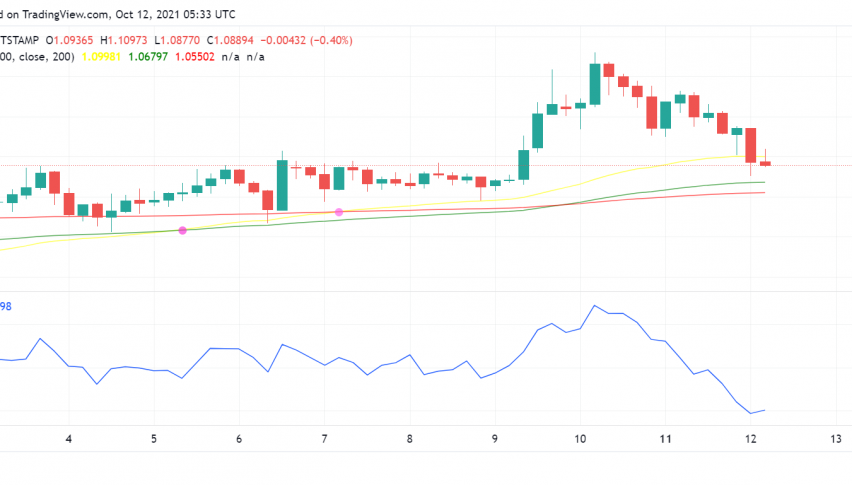 Can Legal Developments And Fundamentals Prevent Ripple's XRP From Sliding to Test $1?
Ripple's XRP is displaying some signs of bearish price action, making lower highs and exhibiting signs of choppiness amid a weak mood weighing across the altcoin market in general. At the time of writing, XRP/USD is trading at around $1.08, registering a loss of more than 5% in the past 24 hours.
Developments Worth Watching in the SEC vs. Ripple Lawsuit
The SEC's insistence that Ripple hand over key evidence that can prove that the firm's employees were aware of the possibility of XRP being considered a security has received a response from Ripple's lawyers earlier this month. The agency had previously maintained that this evidence would prove that the company knowingly marketed the XRP as an investment contract despite potential regulatory challenges.
However, Ripple's legal team has stated that this motion should be denied on three grounds, especially on account of the discovery period having officially ended and the company having spent considerable time in searching for recordings. In addition, they have mentioned that there is no way to search for more recordings beyond the efforts already put in, claiming that the SEC's demand is incompatible with Federal Rules and is disproportionate.
Despite these uncertainties, experts state that the way things stand at present, Ripple seems to have the upper hand in the lawsuit after Judge Sarah Netburn permitted the inclusion of two documents as well as an email chain during the in camera review. The email chain contains vital information relating to the SEC's discussion with a third party regarding whether a digital asset can be classified as a security based on William Hinman's 2018 speech.
Can Latest Fundamental Developments Support XRP?
Ripple's XRP could find some support from Capgemini's latest World Payments Report for ths year which outlines the increasing demand for cryptocurrencies amid rising cross-border transactions, transaction costs and lack of standardization in the global payments' space. Capgemini's report states that cryptocurrency payments' adoption rate could surge from single digits to touch 45% by 2023.As we know, cross-border transactions are one of the strongest areas as far as Ripple's services are concerned, as the company has partnered with numerous banks and financial institutions worldwide, enabling them to leverage the crypto infrastructure for faster and cheaper remittances.
Meanwhile, Ripple seems to be diversifying its interest beyond enabling global cross-border payments, with the announcement of a new strategic ESG investment with Nelnet Renewable Energy. The $44 million joint investment will see the businesses collaborate on Nelnet's solar energy investment funds, funding solar energy projects across the US towards realizing the goal for cleaner energy in a bid to tackle climate change.
Key Levels to Watch
On the 4-hour chart of XRP/USD, smaller moving averages along with the MACD are suggesting a bearish bias. Although, the larger timeframe MAs as well as the momentum indicator point to some buying interest as well.
Ripple's XRP has slid under the pivot point at $1.12 and appears to be making its way towards testing the immediate support at $1.01 amid increased selling pressure. A reversal of sentiment or the entry of buyers into the market can prevent the support from being tested; else, we could see XRP tumble under the key $1 level soon.
Cryptocurrencies were showing strong bullish pressure in the first two months of 2023, but the bullish momentum has faded
2 weeks ago