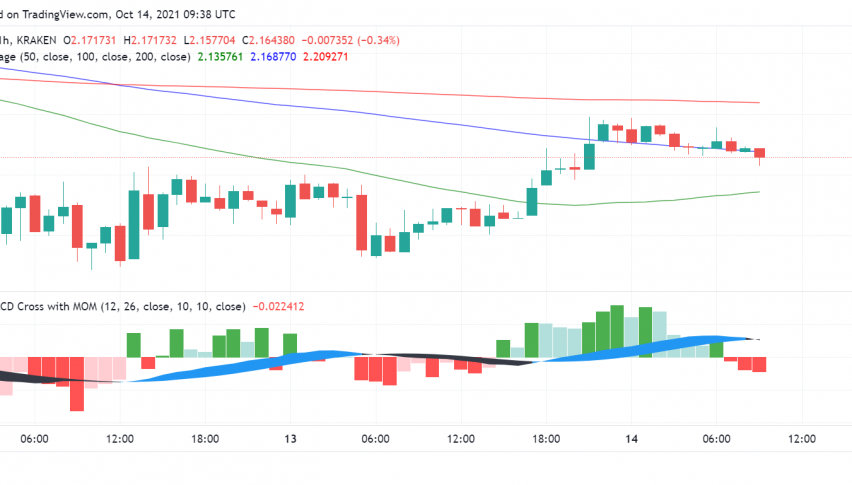 Cardano (ADA) Weak Despite Uptick in Adoption Among DeFi Projects
On Thursday, we see some weak price action in Cardano (ADA) as it struggles under the $2.20 mark, although it has bounced back to the fourth position in terms of market cap after briefly slipping one ranking down during the previous session. At the time of writing, ADA/USD is trading around $2.16.
While the Alonzo upgrade was cheered by investors before it was rolled out, the enthusiasm surrounding the hard fork died down soon after, sending ADA on a downtrend. Even strong fundamentals indicating rising adoption of the Cardano blockchain among new projects in the DeFi and NFT space failed to drive much positive price action since then.
Although it went on to become the third largest crypto by market cap last month as the excitement around the Alonzo upgrade sent its price higher, Cardano has often come under criticism among a section of crypto experts who have called it out for slow rollout of new features. In a recent interview with Thinking Crypto, IOHK's CTO Romain Pellerin addressed some of the concerns surrounding the eUTxO model, sharing how this was derived from crypto king Bitcoin but has gone through some innovation on the Cardano blockchain. He also came out in support of the network against social media criticism, stating, "Because I think, by nature, if you want blockchain to be the trust layer of the internet tomorrow, you need to connect networks, you need to collaborate."
Cardano Gets Busy on the DeFi Front
On the fundamentals front, things are getting very busy in the Cardano ecosystem which is seeing a wide range of projects gearing up to launch. One such project is RavenDex – a decentralized exchange which has managed to sell more than 60% of its allotted tokens to early adopters in a private sale round and is looking to launch a fully functional product before the end of this year.
Meanwhile, at the World Blockchain Summit in Dubai, another Cardano-based startup Revuto was awarded for being the Fastest Growing Consumer Product in Crypto for 2021. The project had held the first ever token sale on the ecosystem and raised $10 million in funding, signing up 3 million users for early access and supporting over 200,000 active users.
Another DeFi project, Derived, launched its IDO during the previous session. A multi-chain synthetics assets trading platform, Derived is based on Cardano but will provide cross-chain services across other leading blockchain networks, including Ethereum, Polkadot, Avalanche and Binance Smart Chain as well.
But it's not just in the DeFi space that Cardano is experiencing growing adoption. The blockchain has also been supporting NFTs over the past few weeks, letting users mint and sell NFTs without needing a smart contract address. One such initiative, SpaceBudz, successfully announced its first Cardano-based NFT sale which crossed $1 million – a record high for the network.
ADA/USD Technical Analysis
Popular crypto strategist and trader Michaël van de Poppe forecasts a possible price correction in Cardano against Bitcoin in the near-term. He expects more downside until a clear bottom is reached after which a reversal and a rally will begin.
On the H4 price chart of ADA/USD, leading technical indicators MACD and momentum along with the smaller moving averages are exhibiting a bullish bias. However, the larger timeframe MAs point to some interest among sellers.
Cardano is trading well under the pivot point at $2.22 but the support at $2.07 is holding up well. In the event of higher selling pressure, this level could break down, although an influx of buyers into the game can take it past $2.20 and above the PP soon.
Cryptocurrencies were showing strong bullish pressure in the first two months of 2023, but the bullish momentum has faded
3 weeks ago