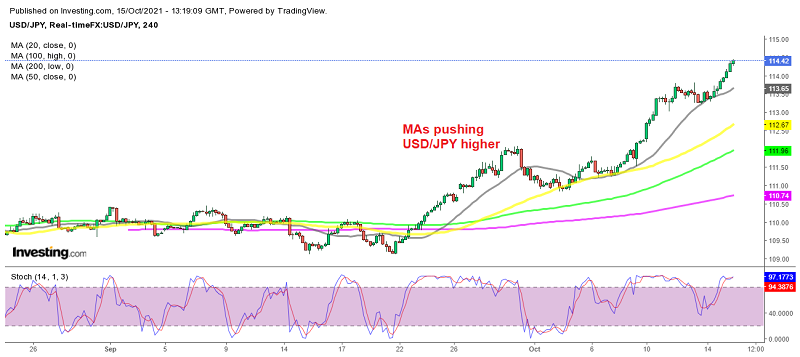 USD/JPY Buy Signal Hits TP Target, After Positive US Retail Sales
A few days ago, we decided to open two JPY sell signals, one EUR/JPY buy signal and another USD/JPY buy signal, both of which short the Japanese Yen. The EUR/JPY signal closed the next day, as the Euro started retracing higher after a bearish period, while the USD/JPY signal remained open for several days, as this pair traded sideways, after a very strong bullish momentum.
But, the bullish momentum resumed again, and this signal hit our Take Profit TP target today. So, both JPY signals closed in profits. The positive retail sales report from the US for September helped the situation further. Below is the US retail sales report:
US September 2021 retail sales data:
September retail sales MoM +0.7% vs -0.2% expected
August sales were +2.5%
Core retail sales ex. autos +0.8% vs +0.5% expected
August core sales ex. autos were +1.8
Retail sales control group +0.8% vs +0.4% expected
August control group was +2.5%
Retail sales ex. auto and gas +0.7% vs +2.0% prior
Never underestimate the spending power of the US consumer. I highlighted some Bank of America card spending data that pointed to a miss in this data, and it made sense. Well, the opposite happened with a very good report, pending the details.
Details:
Furniture +0.2%
Electronics and appliances -0.9%
Clothing +1.1%
Building materials +0.1%
Food and beverage stores +0.7%
Health and personal care stores -1.4%
Sporting goods and hobbies +3.7%
General merchandise +2.0%
Non-store (online) +0.6%
Food service and drinking places +0.3%
I find it interesting that building materials are up 5.8% YoY. The narrative out there is that home building and renovations have slowed, and that lumber prices are dead. However, they've been creeping up, and that's from last year's strong base.