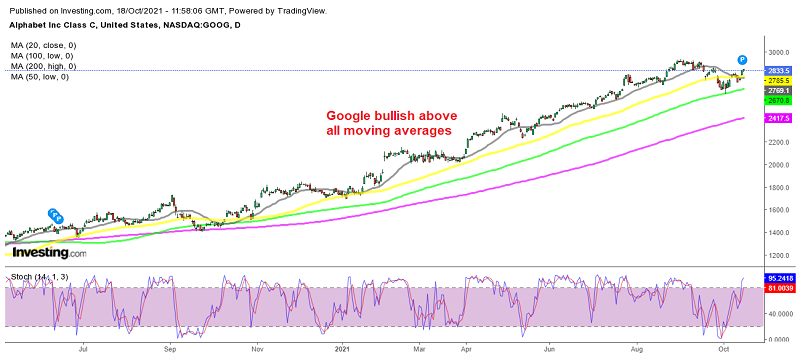 Cashing in on S&P500, Locking Google Trade in Breakeven
Stock markets have been bullish forever, but the bullish trend has picked up further pace since the beginning of the coronavirus pandemic, and particularly during this year. The enormous amounts of cash from central banks and governments, with all the monetary and fiscal stimulus programs, have been fuelling this bullish trend in the stock markets, for both individual stocks and stock indices.
Google Daily Chart Analysis – Bouncing off the 100 SMA
We decided to open a buy Forex signal in Google stocks, after the Apple signals kept closing automatically. Stock markets were retreating lower, and we saw that as an opportunity that shouldn't be missed. So, we went long on Google, as it was bouncing off the 100 SMA (green) on the daily chart.
We see on the daily chart that since October last year, during the US presidential campaign, when the stock markets retreated due to fears of the outcome, the smaller moving averages, like the 20 SMA (gray) and the 50 SMA (yellow), have been providing support on the daily chart.
This time, the pullback was deeper, breaking below these two MAs, but the 100 SMA held as support, and now we are seeing a reversal higher, and the price has already climbed above all MAs again, so buyers remain in charge. Now, our signal here is more than 100 points higher, so we advise our followers to lock this trade in breakeven.
S&P500 Daily Chart Analysis – Moving Above all MAs
The 100 SMA has held as support for S&P500 as well
The daily chart looks similar to that of Google above, but here the 50 SMA (yellow) has been the ultimate support indicator, while for Google it was the 20 SMA that provided support during most of this year. So, the uptrend is not as strong here, which is normal, since this is an Index of 500 stocks, while Google has benefited from the rally in tech and internet companies since the beginning of coronavirus saga.
The price tested the 100 SMA (green) three times, after having broken below the other two MAs, and it broke below that moving average for a moment. But the 100 SMA eventually held, and the price is reversing higher as the sentiment improves. The retreat came as a result of China going through another coronavirus phase, while the FED announced the beginning of the taper process, which is negative for stocks. But, the ECB is remaining steady with their PEPP program, so the stock markets have turned positive again.