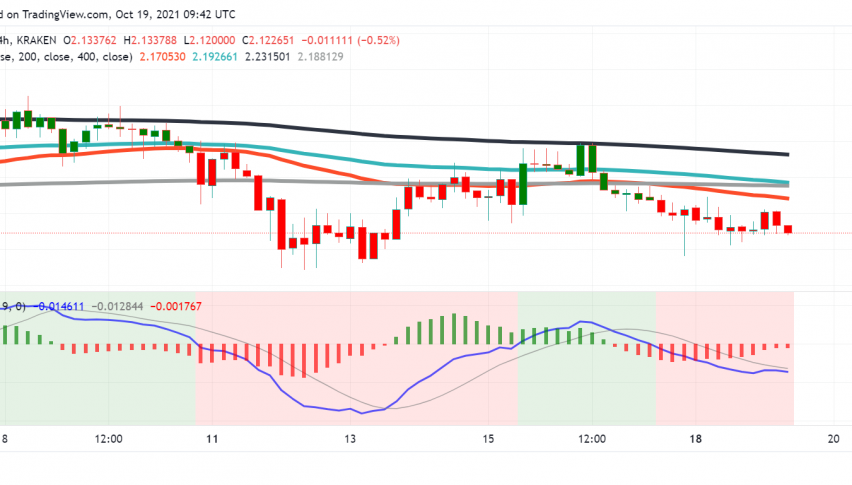 Why is Cardano (ADA) Still Struggling Despite High Investor Interest?
Cardano (ADA) continues to trade weak into Tuesday, unable to reclaim the third ranking in terms of market capitalization after sliding down a few sessions ago, and even interesting developments in the ecosystem are unable to drive up investor interest. At the time of writing, ADA/USD is trading at around $2.12.
Ever since the blockchain announced its major upgrade last month, supporting smart contracts, there was a high level of optimism among investors that it could spur high levels of adoption among projects. While there have been several interesting partnerships and project launches announced since then, they have failed to drive enough price action in the ADA token.
Notwithstanding the current weak price action, analysis of eToro data reveals that Cardano is the second most popularly traded crypto asset on the leading social trading platform. In the three months, interest in ADA rose by 11% and by 1,230% on an annual basis among eToro users. Latest data from CoinShares also reveals continued interest in the cryptocurrency among institutional investors. Of the total inflows of $80 million into digital asset products over the past week, Cardano received $2.7 million worth of institutional inflows, making it among the top five popular crypto assets.
Latest Fundamentals Paint a Mixed Picture For Cardano
On the fundamentals front, Cardano's investment arm EMURGO has announced a partnership with pan-African venture studio Adanian Labs to foster the development of new tech startups in the region over the coming years. Such an initiative can drive up the development of its ecosystem, encouraging more new projects to come up on the blockchain in the coming months. While the update may support ADA in the long term, it may not have an impact on its value in the near term.
Meanwhile, a community-driven NFT protocol being built on the Cardano blockchain – CADALABS Protocol, has raised $1 million within one hour of launching its private token sale. The development indicates strong interest in investing in projects on the network and could lend some support to the ADA token.
However, ADA's price could be impacted by Greed's decision to delay its launch on the Cardano ecosystem until next quarter. Founded by Grammy Award winning producers Cool & Dre in partnership with lead developer Peter Parente (Captain Awesome), the Greed Ecosystem would have brought mult-chain crypto utilities, including launchpads, swaps, staking, yield farming, NFT markeptlace and a metaverse, making it a significant project on the ecosystem. According to a news release, its developers have now pushed the launch till Q1 2022 because of delays in going live due to scalability issues, raising concerns about possible congestion on the blockchain.
Key Levels to Watch
Technical analysis of the H4 chart of ADA/USD reveals a strong bearish bias among moving averages and leading technical indicators MACD and momentum. Cardano's price remains below the pivot point at $2.15 but the immediate support at $2.06 is holding well for now.
Any further bearishness can see a test of this level soon. In case this breaks down, ADA could head on lower under the key $2 level till the next support at $1.98.
Cryptocurrencies were showing strong bullish pressure in the first two months of 2023, but the bullish momentum has faded
2 weeks ago