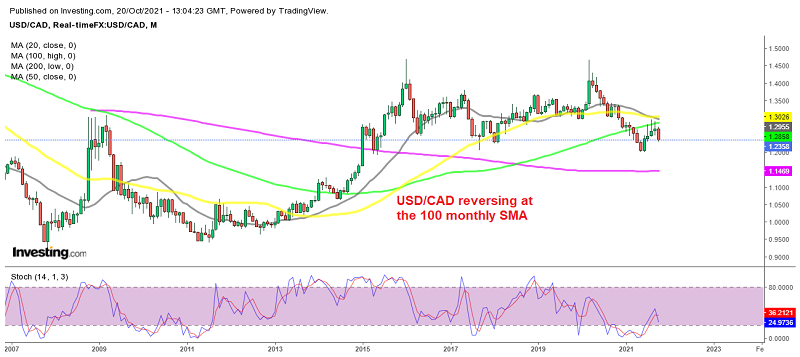 USD/CAD Keeps the Downtrend Going, as Canadian CPI Inflation Keeps Increasing
The USD/CAD was on a bearish trend from April last year, after the initial coronavirus shock, until the beginning of summer, when the decline ended at 1.20. During summer, we saw the price increase, coming close to $1.30, but looking at the monthly chart above, we see that it was just a retrace.
The price has been finding resistance at the 100 monthly SMA (green) for three months now, and the monthly candlesticks have formed upside-down hammers, while last month, it formed a doji, which is a bearish reversing signal after the retrace higher. Now, the pullback higher has ended, and the price has reversed down this month.
USD/CAD H4 Chart Analysis
On the H4 chart, we see that the bearish trend resumed again at the end of September, and it is picking up pace. The 20 SMA (gray) has been providing resistance for this pair, showing that the pace of the downtrend is quite strong for USD/CAD. Today's CPI (consumer price index) inflation report for September showed a further increase, while crude oil prices are on a bullish trend. So, the downtrend should continue for USD/CAD. Below, you can see the inflation report for Canada.
Canadian September CPI data
September CPI YoY +4.4% vs +4.3% expected
Fastest YoY rise since Feb 2003
August CPI YoY was 4.1%
CPI MoM +0.2% vs 0.1% expected
Excluding gasoline, CPI increased 3.5% year on year vs 3.2% prior
Gasoline YoY 32.8% vs +32.5% prior
Core CPI Measures (YoY)
Median 2.8% versus 2.6% last month. Estimate 2.6%
Trim 3.4% versus 3.3% last month. Estimate 3.3%
Common 1.8% versus 1.8% last month. Estimate 1.9%
The headline is a tad hot, and those core measures are generally ticking up. As I highlighted earlier, the BOC business outlook survey had some hidden warnings on inflation in it, along with very strong intentions on spending, sales and investment. The Bank of Canada meets next week, and there's a good chance we see a more hawkish shift as the market prices in an April hike.