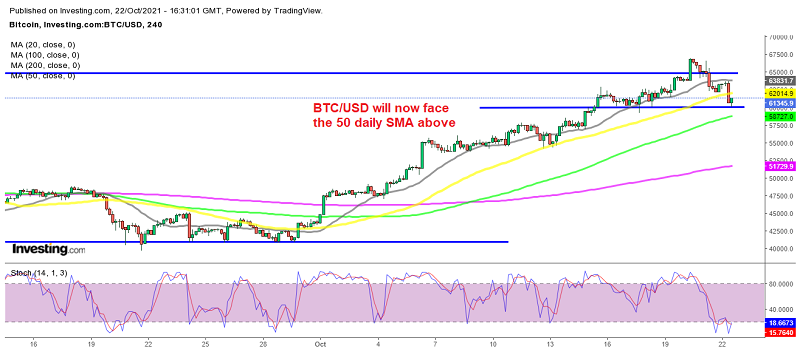 Buying Bitcoin (BTC) Above $60,000, Fantom (FTM) Makes New All-Time Highs
The volatility in the crypto market has returned again after some boring times during late September and early October. Bitcoin started to turn bullish in October, but there were only a few cryptos following it higher, while the rest were trading in a very tight range. But, the crypto market joined Bitcoin in this bullish run, when BTC/USD broke above the all-time high at $65,000.
The upside momentum has been quite strong in Bitcoin, which is shown by the 20 SMA (gray) acting as support on the H4 chart above. There has been only one occasion when the price has retreated below that moving average, but the 50 SMA (yellow) took its turn and provided support, pushing BITCOIN higher again.
This time, Bitcoin has retreated below these two moving averages and we decided to take this opportunity and open a buy BTC/USD signal. We decided to buy above the big round level of $60,000. The price pierced that level for a moment and started to reverse higher, which suggested that this might have been the target for the $7,000 retreat in the last two days. Now the price has increased more than $1,000 off the lows, so we are in profit already.
Fantom Daily Chart Analysis – Another Resistance Level Broken
We have covered Fantom quite intensively in recent weeks, and I have mentioned that one of the things which are more visible regarding the price action in FTM/USD is that previous highs turn into support on the daily chart. it was the May high at around $0.95 which turned into support in September.
Fantom pushing above the recent highs
Then, the September high of $1.95 turned into support later that month and we saw a retrace down from there. The price made a new high of around $2.45 and the previous high at $1.95 turned into support for Fantom. The price reversed higher from there and today it broke above the last high and is trading above $2.50 now.
One of the leading DeFi projects, yearn.finance, has announced that it will expand its multi-chain, incorporating the Fantom blockchain DeFi ecosystem as well. Nansen, which is a well-known data analytics provider, has also announced its support for Fantom. OpenOcean, one of the leading DeFi (decentralized finance) and CeFi (centralized finance) aggregation protocols, has announced that it will partner with Fantom. This will offer users more trading opportunities and prices. So, up goes Fantom and our buy FTM/BTC signal is progressing higher too.