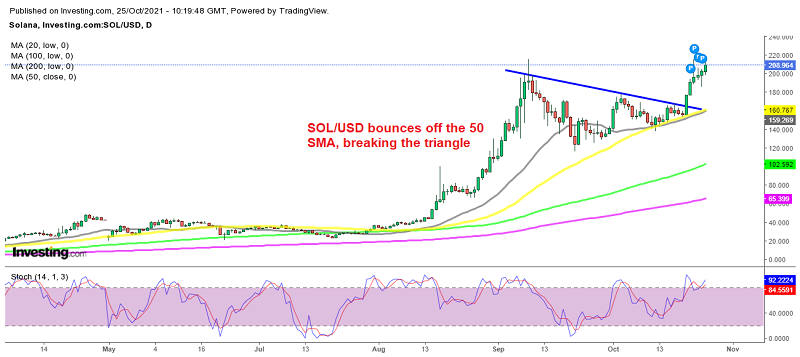 Solana Coin Price Heads for ATH After Breaking the Triangle, Cardano (ADA) Remains Stuck
Earlier this month, we spotted a triangle that Solana was forming on the daily chart, as the highs were getting lower while the lows were getting higher. The price was heading towards the tip of the triangle, and we anticipated a breakout to the upside, since moving averages were providing solid support at the bottom.
Solana had a great run during August, and the first half of September, surging from around $20 to almost $220, which means appreciating more than 1,000% in several weeks, while other crypto coins were not even reaching the previous highs during that time. Since late July, Solana has been taking advantage of the improved sentiment in the crypto market, more than any other coin, and it continues to do so.
Solana has now become the 6th-largest crypto by market cap, and it is the third-largest blockchain in the DeFi industry by TVL (total value locked). It supports 26 DeFi protocols with a TVL of $13 billion. Solana's ecosystem has become quite attractive, with new DeFi and GameFi projects progressing in its network, due to its lightning-quick speed.
The bounce off the 50 SMA (yellow) on the daily chart for SOL/USD came when BITCOIN was breaking above the all-time highs of $65,000. Now the price is heading for new record highs, trading slowly below the latest high price, and the pressure remains to the upside, so buyers remain in control and they are likely to make new highs soon.
Cardano Daily Chart – ADA Remains Uncertain Between MAs
A breakout is expected, as the range keeps narrowing for ADA/USD 
Cardano had a nice rally during August, surging from around $1 to $3.10. This lasted until the second week of September, but since then it hasn't shown any signs of life. The price retreated below the 20 SMA (gray) and the 50 SMA (yellow), which are providing resistance at the top, while the 100 SMA (green) is providing support at the bottom. So, ADA/USD remains stuck between these moving averages.
It is missing out on the latest rally in the crypto market, after the optimism that came due to the launch of the first Bitcoin-based ETF in the US market. This has been encouraging higher acceptance of cryptos among institutional investors and it has reversed some of the fears over increased regulatory scrutiny of digital assets, which had been weighing on markets in recent weeks. But as mentioned, Cardano is not taking advantage of the improved sentiment, while other cryptos, such as Solana, are running away with it.