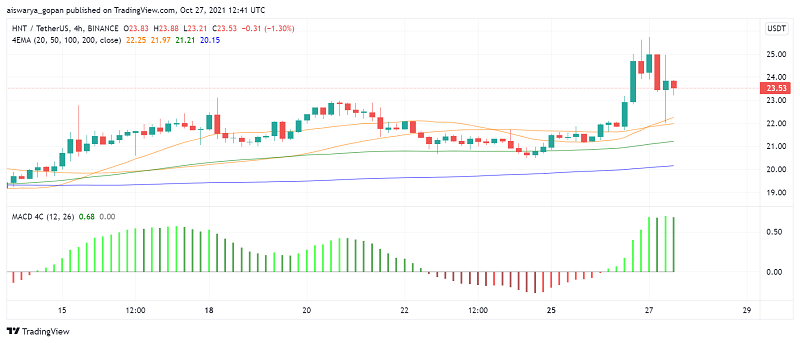 Helium (HNT) Announces First Mainstream Partnership With DISH Network
Designed for 5G and Internet of Things (IoT), Helium (HNT) just received a major boost in its plans to drive widespread adoption of its technology through a partnership with Dish Network. This is the first significant partnership with a mainstream business for the People's Network as Helium is known.
DISH is the first major telecom company to partner with Helium to deploy its 5G CBRS-based Hotspots, a decentralised way to deploy 5G wireless networks around the world. This development would allow DISH's subscribers an opportunity to run their very own Helium nodes and earn rewards in the form of HNT tokens for sharing their 5G wireless network to nearby clients around their homes.
More Information About Helium's Decentralized Approach
In less than six months since gaining approval for Helium 5G, FreedomFi has started shipping its first batch of compatible gateways to US-based consumers and is expected to spread across more than 40.000 cells by the end of next year. If this milestone is achieved, it would make Helium 5G's network overtake several small cellular networks in the country.
Helium's decentralized approach to deploying wireless networks already spans 144 countries worldwide, with 256,000 hotspots lives across over 22,000 cities. Leveraging blockchain technology, it offers a radically different, cost effective and scalable way to manage wireless networks, empowering people to run their own wireless infrastructure.
CEO and Co-founder at Helium, Amir Haleem, remarks, "Using Helium Network's technology and blockchain-based incentive model, DISH is a pioneer in supporting an entirely new way to connect people and things. The CBRS-based 5G hotspots will be deployed by customers, creating opportunities for users, partners and the entire ecosystem."
HNT/USDT Technical Analysis
Helium is currently ranked 59 in terms of market capitalization on Coinmarketcap. At the time of writing, HNT/USDT is trading at around $23.53.
On the 4-hour price chart of this crypto pair, moving averages and the MACD suggest a bullish bias. However, the momentum indicator points to some interest among sellers as well.
Helium's price is holding above the pivot point at $21.53 and buyers have broken through the first resistance level at $22.54. With some more buying pressure, we could see HNT test the next resistance at $24.12 and break past it.