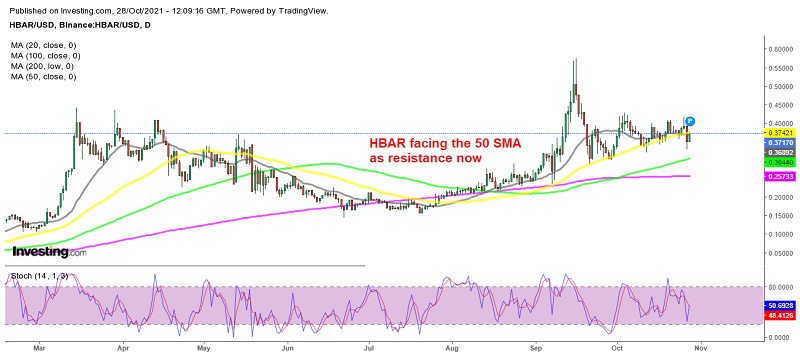 Cardano and Hedera Hashgraph Try to Recover After the Bearish Breakout Yesterday
Yesterday was a bearish day in the crypto market. There was not much reason behind this, besides some profit-taking in Bitcoin, after such a strong bullish run in October. It was a sudden move that pulled the market down, forcing major cryptocurrencies to make a bearish break yesterday, with Cardano and Hedera Hashgraph breaking below moving averages, which had been acting as support for them.
Hedera Hashgraph Daily Chart Analysis
HBAR/USD was trading on a bullish trend, with the 50 SMA (yellow) acting as support during pullbacks. That moving average was broken yesterday during the flash crash, and this cryptocurrency fell from $0.42 to $0.32. Today the price is reversing higher and trying to resume the bullish trend again, but the 50 SMA is acting as support at the moment.
But it shouldn't take long for this crypto to resume the uptrend, since fundamentals are positive. Hedera took a big step forward into decentralized finance by partnering with the USD Coin, which it has incorporated into its network. Besides that, the Singapore bank, DBS, has also joined the governing council of Hedera, so buyers are back on.
Cardano Daily Chart Analysis
The 200 SMA held as support for Cardano
After the bullish move in August, Cardano wasn't showing any signs of life. It reversed down in September, and during October, Cardano was trading sideways within a tight range. It was confined between moving averages, with the 100 SMA (green) acting as support, while the 20 SMA (gray) and the 50 SMA (yellow) were acting as resistance at the top.
Yesterday we saw a 30 cent decline, as the price tumbled from around 2.15 to $1.85, but the 200 SMA came to the rescue, holding as support on the daily chart. Today the price is starting to reverse higher. Cardano launched smart contracts 5 weeks ago, with the Alonzo hard fork, but that hasn't helped the price during the last month, so we will see how Cardano progresses. We are long on ADA/USDT from 2.28, so we're keeping an eye on this crypto.