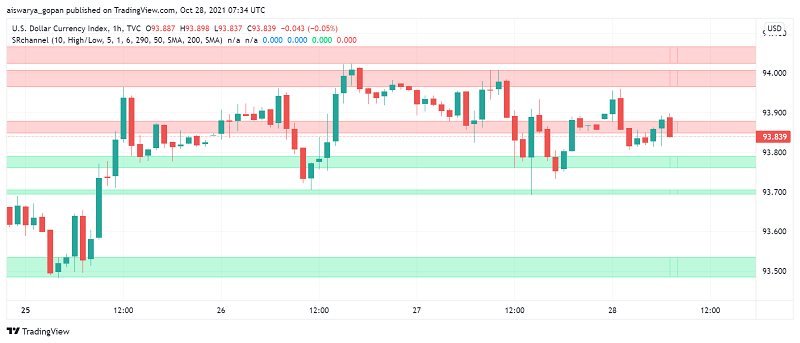 US Dollar Maintains Strength as Focus Shifts to ECB
Early on Thursday, the US dollar is holding firm against leading currencies, especially the Euro and Japanese yen, both of which are trading under pressure on account of their respective central bank meetings today. At the time of writing, the US dollar index DXY is trading at around 93.83.
Meanwhile, commodity currency AUD posted a slight dip after the RBA signaled that it would not buy the April 2024 line of government bonds even though yields were holding above the target of 0.1%. While the move did push bond yields higher as a result, it failed to move the commodity currency. However, expectations of a faster rate hike by the RBA are keeping AUD/USD trading close to a three-month high.
Investors expected no surprise at the BOJ meeting on Thursday, and the central bank stayed on course with its monetary policy ultra-loose as inflation remains well under the key 2% target. In addition, revised inflation projections show that they will remain below target for at least another two years, indicating no pressure on the BOJ to change its dovish stance anytime soon. This is keeping the JPY under pressure amid uncertainties weighing on its economic outlook, which the BOJ has acknowledged by revising GDP forecasts lower for 2021 and 2022.
We will soon hear from the ECB, which is also likely to maintain its dovish outlook. However, comments from policymakers on rising inflationary pressures and their impact on monetary policy will be closely watched as they could offer clues on a possible timeline by when the ECB could consider turning hawkish.
The US dollar is trading under pressure against the Canadian dollar a day after the BOC stated its interest in hiking interest by April 2022 at the earliest. The Canadian central bank highlighted inflation remaining above target through most of the next year as the key reason for such a move. Canada's inflation could remain high on account of an uptick in energy prices as well as due to bottlenecks in global supply chains.