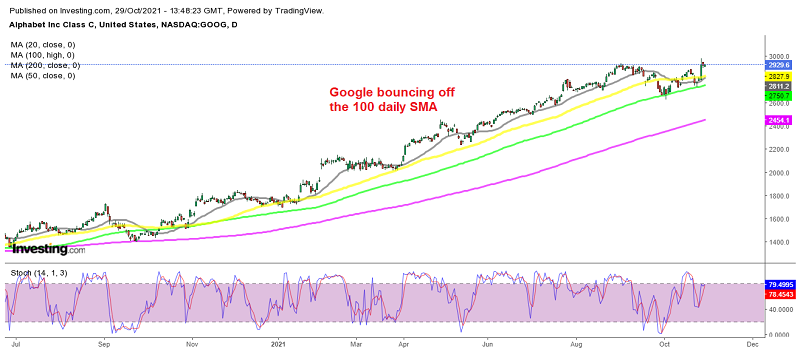 Stock Signal in Profit as Google Eyes 3,000, After Earnings Beat Estimates
After introducing stock signals to our website recently, we decided to open a buy signal in Google, during the deepest pullback since September last year. Moving averages have been doing a great job as support on the H4 chart, with the 20 SMA (gray) and the 50 SMA (yellow) providing support throughout this year, confirming the strong bullish bias in 2021.
This time, the pullback continued below the 50 SMA, where we took a short initially, then as the retrace continued to retreat lower, we decided to buy at the 100 SMA (green). The price bounced above the 50 SMA, but it then dropped, finding the 100 SMA again. On Wednesday, we saw a jump higher, after the earnings exceeded the estimates.
Google Weekly Chart Analysis – The 20 SMA Holds As Support
Google stocks bouncing off the 20 weekly SMA
Advertising revenue in Google reported a 43% increase in Q3, jumping to $53.1 billion. YouTube ad sales also increased, rising from $5 billion in Q3 of last year to $7.2 billion this year. Earnings of $27.99 a share beat analyst expectations for a profit of $23.48.
This improved the sentiment in the tech stocks, as Apple earnings also beat estimates, so shares of tech companies surged that day. Google pushed above the recent highs and printed a new high closer to 3,000 points. On the weekly chart above we see that the retrace lower ended at the 20 SMA (gray), and the price bounced off that moving average, and is now eyeing the $3,000 level. Now our Google buy signal here is more than 200 points in profit, so we're riding this move. Meanwhile, the sell signal in Alibaba closed in profit, as the decline continues, due to the crackdown by the Chinese government.