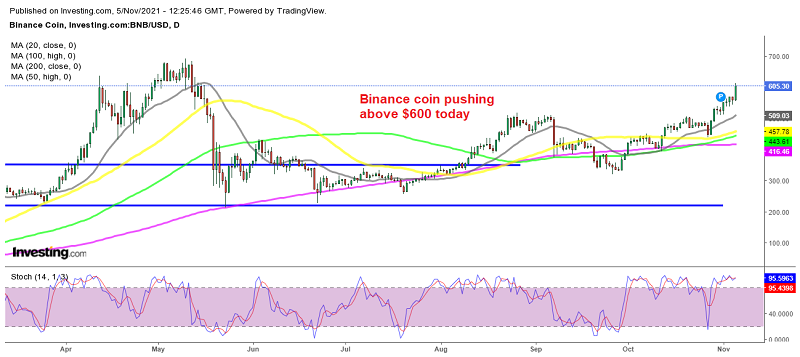 Binance Coin BNB and Terra LUNA Keep the Bullish Momentum Going
The crypto market has either been trading sideways or retreating lower in the last two days, apart from a few cryptocurrencies, such as Fantom, which has reversed higher after the pullback, Binance Coin and Terra Luna. We will have a look at the last two cryptos, since they have made a breakout recently.
Binance Coin Daily Chart Analysis – MAs Turn Into Support for BNB
Binance coin wasn't looking particularly bullish until late October, when the upside started to pick up pace.  After the bullish reversal in August, BNB/USD fell below the moving average in September, as the crypto crackdown weighed on the market, and especially on the Binance token, since the Binance exchange was getting banned in certain countries.
But, it faced the challenges pretty well, and in October it started to turn bullish. Binance announced a $1 billion growth fund by the middle of last month, which helped improve the sentiment further for Binance. Although, the suspension of crypto withdrawals twice on Monday wasn't a positive event. But, Binance brushed it off, and today it is making a strong move higher, as you can see in the daily chart.
Binance Coin Weekly Chart Analysis – BNB/USD Heading for ATH
Binance coin targeting the all-time high at $700
On the weekly chart, we see that the retreat in September ended at the 20 SMA (gray), which held as support and reversed the price higher. The price bounced off that moving average, which stood at around $322 at the time, so that's a decent support area for Binance coin.
The price has been increasing for 5 out of the last 6 weeks, and this week, buyers look quite confident. They have pushed above August's high at $545, and they're targeting the all time high (ATH) at around $700. That's not too far, considering that BNB/USD is trading above $600 now, and the trading range this week alone has been more than $100. So, those who are long on Binance coin should hold onto their trades until $700 at least.
Terra Luna Daily Chart Analysis – Making New Highs Above $50
Is $50 turning into support now for Terra LUNA?
Terra Luna coin has shown great buying pressure since July, and it hasn't suffered much during the pullbacks in the crypto market during September. The price increased from around $4 to $50, with the previous high at around $22 turning into support.
Moving averages have been doing a great job as support indicators, particularly the 50 SMA (yellow). Yesterday, buyers pushed above the latest high at $50, and LUNA coin reached a high of $53. Today it has retreated a little, but it seems like the last high at $50 might have turned into support for Terra LUNA. This might be a good place to go long, although I would like to see a deeper retreat at the 50 SMA.
Cryptocurrencies were showing strong bullish pressure in the first two months of 2023, but the bullish momentum has faded
7 months ago