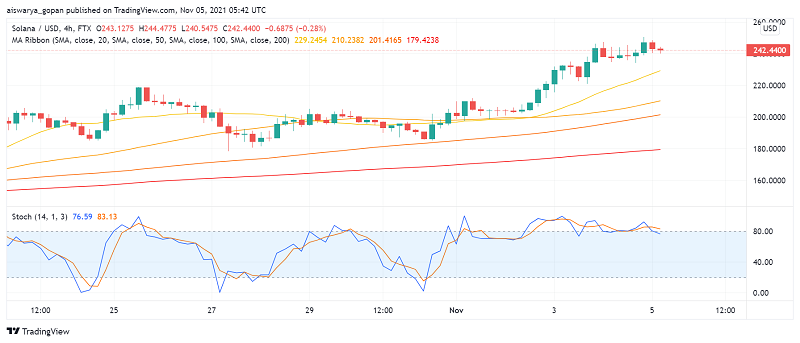 Solana (SOL) Hits New ATH: What's Next For This Potential Ethereum Killer?
Solana (SOL) is making cautious gains once again after sliding below a new all-time high (ATH) reached in the previous session, possibly on profit taking by investors, but holding above the $240 level. At the time of writing, SOL/USD is trading around $242.44.
Solana seems to be showing the most promise as a potential Ethereum killer, rising in popularity among dApp developers and users, and offering investors an ROI of more than 17,000% over the past year. This makes it one of the hottest cryptocurrencies in the market this year. Reaching a fresh ATH this week has also propelled it into the fourth position in terms of market cap, overtaking key rival Cardano in the process.
Solana Experiences Growth Surge in NFT, GameFi Sectors
The high-speed blockchain has made its mark in the NFT space, garnering total second sales of close to $500 million in the past three months. While the figure is far below the leader Ethereum that raked in over $2 billion in secondary NFT sales in the month of September alone, crypto experts are impressed by the rapid uptick in Solana's adoption and growth over the past few months.
In addition to NFTs, the GameFi sector has also contributed to remarkable growth in on-chain activity on the Solana blockchain. But the high speed blockchain has much to offer beyond DeFi, NFTs and GameFi, allowing for innovative development of new use cases which give it an edge over several of its competitors, including Ethereum in some areas.
This is evident from a recent interview on Cointelegraph with game developer and publisher Faraway's co-founder Alex Paley. According to him, his company opted for Solana over Ethereum as they were impressed with its ability to conduct fast and cheap transactions, in addition to offering an ecosystem that supports the development of games with complex real-time economies and systems more effectively.
Should We Worry About SOL Whales?
Solana's rapid surge in recent weeks, however, has raised concerns among the crypto community. A Twitter user under the pseudonym GooseOfCrypto has pointed out a podcast featuring Social Capital CEO Chamath Palihapitiya along with venture capitalists Jason Calcanis and David Sacks engaging in a conversation where they admit to having invested billions in Solana. While the whale activity can be considered promising, the Twitter user cautions that they could potentially be driving a 'pump and dump' scenario in SOL, which could cause its value to crash if they sell out their holdings suddenly.
SOL/USD Technical Analysis
On the 4-hour chart of SOL/USD, we find a strong bullish bias being exhibited by moving averages as well as leading technical indicators MACD and momentum. However, the Stochastic indicator points to some selling interest in the market as well.
Solana's price is well above the pivot point at $200.04 and has broken past two resistance levels at $221.52 and $240.40. As a next step, keep an eye on the price action around the ATH level as a break past this can take SOL to newer highs until buyers encounter resistance again at $280.76.
Cryptocurrencies were showing strong bullish pressure in the first two months of 2023, but the bullish momentum has faded
2 weeks ago