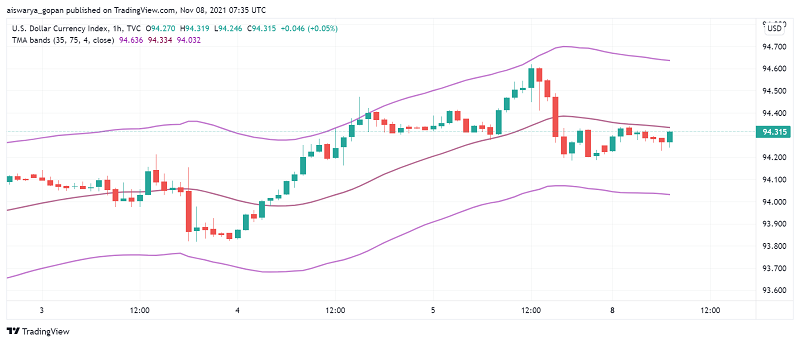 US Dollar Firm as Investors Await Inflation Data This Week
The US dollar is starting the brand new week on a firm footing, trading just under the highest levels touched in the previous session even as investors continue to focus on central banks' attitudes towards monetary policies in the wake of higher than forecast inflation. At the time of writing, the US dollar index DXY is trading at around 94.31.
Later this week, traders are going to be tuned to the release of inflation data from the US, with the US CPI figures coming out on Wednesday. According to economists, consumer prices are expected to show an increase by 5.8% YoY, well above the Fed's target of around 2%, and have remained above the target for several months now. Fed officials have also recently started admitting that inflationary pressures could last longer and not be transitory as they had previously forecast.
Meanwhile, a strong NFP report release on Friday gave traders more reason to be optimistic about the US dollar, sending it to the lowest levels seen in 15 months against the common currency; although the leading currency pair has seen a slight rise since then. GBP/USD, meanwhile, is trading at multi-week lows after the BOE decided against hiking interest rates despite the governor Andrew Bailey hinting his interest in doing so a few days prior to the meeting.
The Chinese yuan is also trading under pressure against the US dollar on Monday despite stronger than expected exports data. However, weak imports into China after the nation tightened curbs to contain fresh outbreaks of COVID-19 dimmed the outlook for the economy and the currency. Later this week, traders will also focus on PPI and CPI data out of China to see if inflationary pressures are affecting the world's second largest economy.
Economists attribute the strengthening in the greenback to be a result of concern among traders on central banks giving out mixed messages. While on the one hand, easing of monetary policies and a rally in equity markets keeps currencies under pressure, stronger bond yields paint a different picture, exerting upward pressure on the currencies. This has heightened the safe haven appeal of the US dollar as forex traders await clarity on direction and outlook.
Overnight we had the CPI consumer inflation report from Australia, with AUD/USD being on a bullish trend for a few months
1 week ago