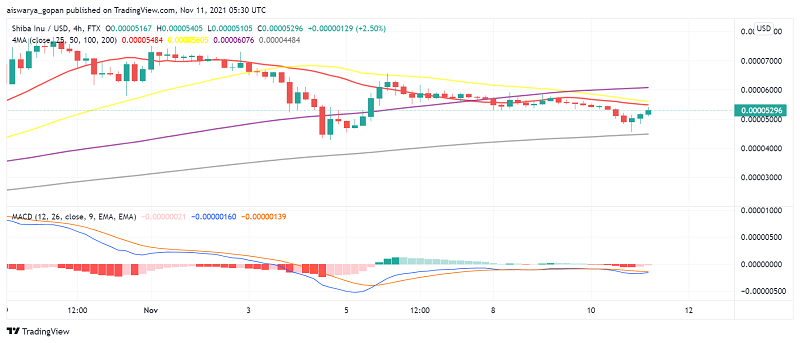 Can Shiba Inu (SHIB) Buyers Build Up Pressure For Bullish Confirmation?
Shiba Inu (SHIB) continues to trade somewhat bearish under the $0.000060 level despite news of rising adoption and interest in the memecoin, with its community of users eagerly await its listing on leading fintech platform Robinhood. At the time of writing, SHIB/USD is trading at around $0.000052.
One of the biggest fundamentals that can support SHIB is a confirmation from AMC's CEO Adam Aron that his company will accept the cryptocurrency as a payment method in the future. Aron shared this announcement during the recent quarterly earnings call earlier this week, offering some cheer to the Dogecoin killer. However, there was no information on a timeline for Shiba Inu being added as a payment method.
Robinhood: Wen SHIB?
Meanwhile, it looks like the SHIB Army's focus remains on getting Robinhood to list the meme token, just like the original coin in this category, DOGE. The CEO of the company, Christine Brown, recently put out mixed signals about interest in the coin, driving uncertainty among Shiba Inu investors.
On the one hand, she praised its community for its high levels of engagement. However, on the other hand, she stated that Robinhood was more focused on the long-term potential of any asset it lists instead of getting into it for short-term gains. This statement sounded more pessimistic and suggests disinterest in adding SHIB to the platform, with executives indicating that they remain unconvinced about the second largest memecoin's potential despite its recent rally.
Shiba Inu Buyers Still Active in the Market
However, there may be some interesting buying activity building up in the coin, suggesting that investors still believe in its potential. Analysis of on-chain activity suggests that Ethereum whales, or users holding large amounts of a particular crypto, could be driving their profits into Shiba Inu.
The ongoing bull run in Bitcoin and Ethereum could be driving serious investors to use a portion of their profits into buying up SHIB, contributing to a steady uptick in SHIB holders over the past couple of months. In addition, analysis by Sanbase suggests an active presence of long term holders of SHIB, a key reason supporting the price and preventing it from crashing. Could this be a positive sign about the long-term potential of Shiba Inu?
SHIB/USD Technical Analysis
On the 4-hour chart of SHIB/USD, we find a bearish bias among most moving averages and the MACD. However, the 200 EMA (gray) along with the momentum indicator suggests some interest among buyers in the market as well.
Shiba Inu's price is holding under the pivot point at $0.000058 but continues to hold above the immediate support at $0.000041. We need to see more buying pressure to take SHIB beyond the pivot point and towards the confirmation of a bullish trend, so let's keep a close eye on this level.