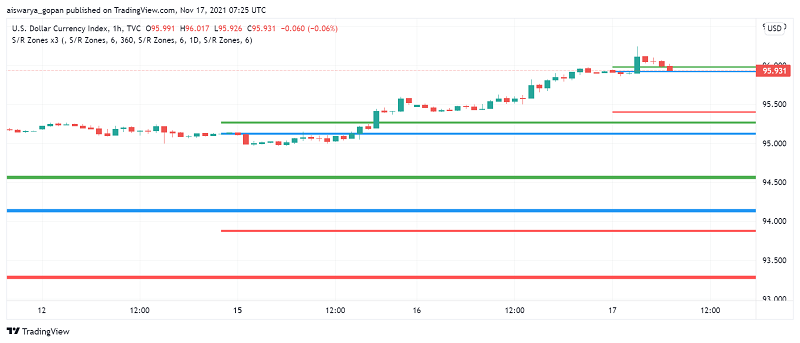 US Dollar Still on The Climb: Strong Retail Sales Support
The US dollar continues to gain against other leading currencies, supported by economic data releases further raising investor hopes for a faster rate hike by the Fed, even as the outlook turns bearish for other major peers. At the time of writing, the US dollar index DXY is trading around 95.93.
During the previous session, US retail sales posted a faster than expected growth for the month of October, reinforcing hopes for rapid economic recovery in the US from the coronavirus crisis. Despite the uptick in inflation, retail sales across the nation rose for the third consecutive month in October, coming in at 1.7% MoM against the previous month's rise by 0.8%. The positive economic data lent support to the greenback and helped it climb higher against other key rivals in the currency markets.
The bullish mood towards the greenback received an additional boost on comments from St. Louis Fed President James Bullard who hinted that it was time for the Fed to start taking a more hawkish approach in its upcoming meetings. Bullard's comments further reinforced rising hopes that the US central bank would reign in its monetary easing efforts at a faster pace than originally planned.
Meanwhile, leading commodity currency AUD has turned bearish following the release of a disappointing wage data, further cementing the RBA's stance to continue with its dovish mood. With its central bank not planning to hike rates anytime soon, the Aussie currency has taken a tumble under the $0.73 level, taking NZD/USD also down with it under the key $0.70 mark.
A spike in COVID-19 cases across Europe has been driving weakness in the EUR/USD currency pair. Several EU nations have already implemented or are considering implementing restrictions and lockdowns to contain the surge in infections, dimming the outlook for the Eurozone economy and the common currency.