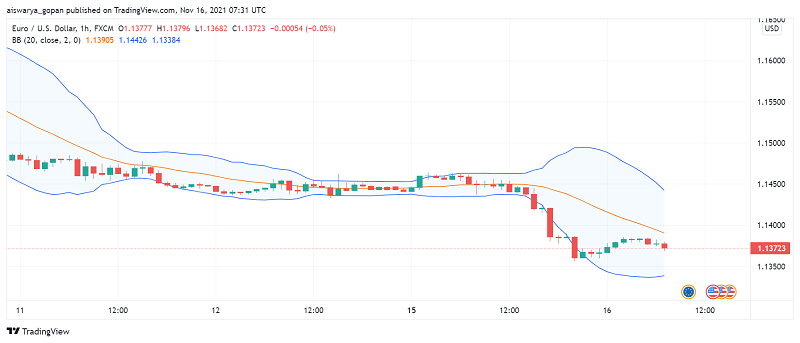 EUR/USD Trying to Recover But Still Weak Under 1.14
The common currency is taking quite the tumble in the wake of a rising US dollar, trading at the lowest levels seen since 16 months even as investors cautiously await retail sales data out of the US scheduled for release later today. At the time of writing, EUR/USD is trading at around $1.137.
EUR/USD fell under the $1.14 mark in the previous session and continues to trade at the lows over rising worries about the economic outlook for the Eurozone. On the one hand, European countries are reporting an uptick in the number of COVID-19 cases lately, raising fears of another possible wave of the pandemic, despite the rollout of vaccines. On the other hand, the Euro has also been facing pressure over ECB President Christine Lagarde's dovish statements about continuing monetary easing for longer even as inflation picks up in the region.
Meanwhile, the US dollar has been making gains in the markets over rising fears of inflationary pressures which could force the Fed to step in with a rate hike by as soon as summer 2022. The weakness in EUR/USD and expectations for a faster rate hike drove up the dollar index beyond the 95.50 level.
Analysts expect the Euro to trade weak against the greenback in the short-term, with focus shifting to central banks. While many experts anticipate a more hawkish tilt from the Fed to support the dollar, the ECB's cautiousness could continue to keep downward pressure on the EUR/USD currency pair going forward.
In addition to retail sales, markets will also closely watch the virtual meeting between US President Joe Biden and his Chinese counterpart Xi Jinping as the leaders of two of the largest economies of the world restart talks to get mend their strained relations. While officials have confirmed that trade and tariff talks are not on the agenda, we can expect some geopolitical fireworks if the issue of Taiwan comes up in the discussion, which could hit investor mood in global financial markets and drive further weakness in EUR/USD.