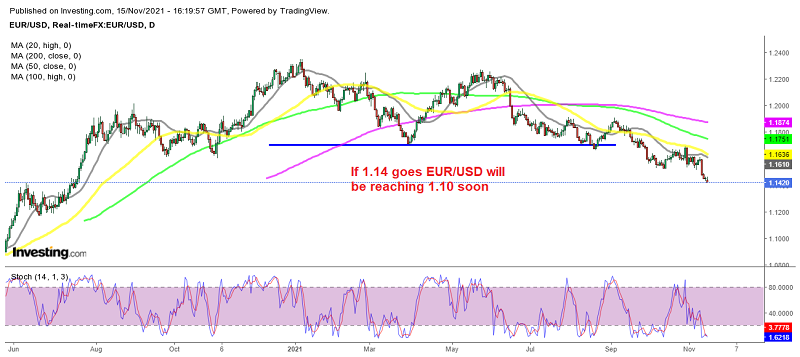 EUR/USD Heads for 1.10 as ECB Brushes Off Inflation
EUR/USD has been bearish since the beginning of summer, but the bearish momentum has picked up pace and after the break of 1.15 has accelerated the decline for the Euro. We saw inflation increase last month, but the European Central Bank ECB keep disregarding it, which is helping send the Euro down.
Today's comments from the ECB reinforced the idea that the ECB won't act anytime soon regarding the tightening of the monetary policy, so EUR/USD continues to decline. Below are their main comments from earlier today.
ECB President Lagarde Speech
We still see inflation moderating in the next year
But it will take longer to decline than originally expected
Any tightening measure now would cause more harm than good
As recovery continues and supply bottlenecks unwind, can expect price pressures on goods and services to normalise
There is an indication of noticeable easing of energy prices in 1H 2022
Duration of supply constraints is uncertain though
Likely to persist for several months then gradually ease during 2022
Growth momentum moderating to some extent, owing to supply bottlenecks and rise in energy prices
Undue tightening of financing conditions is not desirable, would represent unwarranted headwind for the recovery
Conditions for a rate hike very unlikely to be met in 2022
Pretty much rinse and repeat from Lagarde as per the ECB messaging over the past few weeks. The language on inflation may be a little softer on the balance of things but they are still firmly in the transitory camp, so that hasn't changed whatsoever.
Besides that, she maintains that policy will remain accommodative and is pushing back a bit against expectations that the ECB will act next year – at least for now.
ECBs De Cos
Midterm inflation is still below our 2023 target
Midterm inflation is still below 2023 target
Possibility of potential interest rates hikes are still not met with or for guidance policy
ECBs Luis DeGuindos
The ECBs DeGuindos is on the wires saying:
Rising energy costs are weighing on growth by limiting purchasing power of households
To prevent the materialization of the medium-term risks that we have identified, it is essential to maintain the momentum of the recovery and avoid scenarios that could put our price stability objective in jeopardy
Having a strong sustained and broad-based recovery is at the center of our policy concerns.
By ensuring favorable financing conditions, monetary policy continues to pave the way forward
Supply-side shortages may dampen activity while pushing up prices adding to the uncertainty in the outlook for growth and inflation
Now could be the time to consider starting to gradually implement country specific macro policies
Supply-side shortages may dampen activity while pushing up prices adding to the uncertainty in the outlook for growth and inflation
The current phase of higher inflation reflecting in part the aforementioned increase in energy prices and supply constraints, could last longer than expected