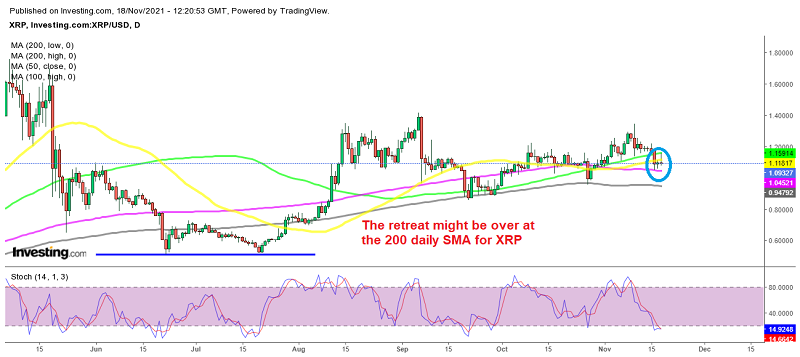 Ripple (XRP) and Terra LUNA Coin Prepare to Reverse Higher
While Ripple has seen a boring price action since September, Terra LUNA coin has continued to remain bullish and make higher highs. But, they have both retreated lower this week, together with the crypto market amid some profit-taking after the bullish run earlier this month. The pledge by China to continue the crypto crackdown earlier this week, as well as the move by the US politics to tax cryptocurrencies, have also played a role in this retreat. But it might be over now, so let's have a look at how Ripple coin and Terra LUNA look.
Ripple Daily Chart Analysis – XRP Keeps Making Higher Lows
We bought ripple during the crash in May at around $1.26 which you can find on our forex signals page and continue to hold this trade, despite being in decent profit a couple of times. Ripple has the potential for a lot more gains as the lawsuit with the SEC (Securities and Exchange Commission) progresses in Ripple's favour. This lawsuit will be the framework for crypto regulation in the US, that's why it is important and has been going on for nearly a year now.
Ripple pushed ahead with this reasoning on Tuesday, saying that if the lawsuit goes in SEC's favour, then it would discourage all new innovators, while proper legislation for cryptos would set the layout for the industry to flourish. Laws made in 1930s for securities are obsolete for this new industry in the blockchain industry, which puts SEC on the back foot trying to basically rule cryptos with the same laws.
So, Ripple hasn't seen much action since September although the interesting thing is that XRP/USD has been making higher lows since July. Even during the last two months, Ripple has been slowly trending higher, which shows that the sentiment is positive, but the market is waiting for the lawsuit to end. Once it ends, Ripple will surge higher, that's why we are holding on to this trade.
Terra Daily Chart Analysis – MAs Continue to Keep LUNA/USD Bullish
A bullish reversing pattern forming above the 50 daily SMA for Terra LUNA
Terra Luna made a remarkable recovery during August, increasing from around $5 to $37. Since September started, the upside momentum has lost pace for the LUNA coin, but it has been an uptrend nonetheless. This cryptocurrency has been continuing higher, with oscillations.
Although moving averages have been helping provide support during pullbacks and push the highs higher during the last two months. During this week we have seen a considerable pullback in the crypto market, but LUNA/USD is still bullish. The pullback seems complete now after the two doji candlesticks in the last two days and moving averages remain intact as support, particularly the 50 SMA. So, this looks like a good buying opportunity although we are overly exposed on other cryptocurrency trades which you can follow on our forex signals page.