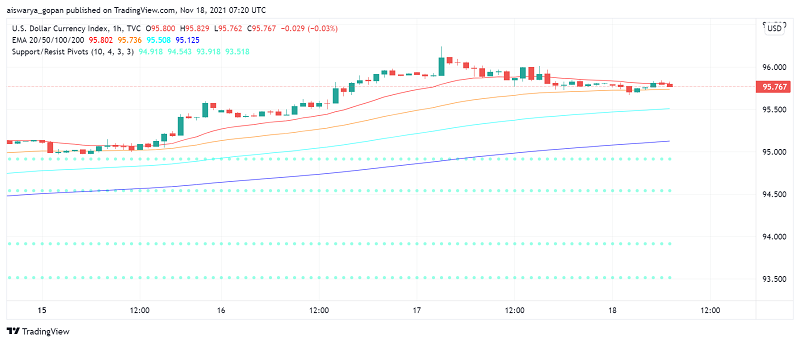 US Dollar's Rally on Pause After UK, Canada Inflations Soar
The US dollar's rally appears to be taking a bit of a breather on Thursday, with the reserve currency hovering below the highest levels seen in 16 months, after GBP and JPY made gains during the previous session. At the time of writing, the US dollar index DXY is trading around 95.77.
GBP/USD soared to a one-week high in the previous session, gaining as much as 0.5% on the back of stronger inflation readings from Britain. This has once again raised the prospects of the BOE announcing a rate hike as soon as its next month's meeting, driving up buying activity in the Sterling.
Meanwhile, safe haven Japanese yen has also been on the rise against the US dollar, amid worries of fresh COVID-19 outbreaks in key regions such as China and Europe. This has raised fears among investors of a possible impact on economic recovery as nations bring back lockdowns and restrictions to contain the spread of infections all over again.
However, the sentiment is also lending some support to the safe haven appeal of the US dollar, keeping JPY's gains in check. In times of economic uncertainty, investors opt for the safety of the US currency, keeping it bid. Analysts expect the current dip to be momentary as the greenback has several fundamentals keeping it supported in financial markets at the moment.
A decline in oil prices has caused leading commodity currency CAD to post losses against the USD. Crude oil is one of the most important exports from Canada and a reduction in oil prices has an adverse impact on its GDP and currency, keeping USD/CAD bullish at the moment.