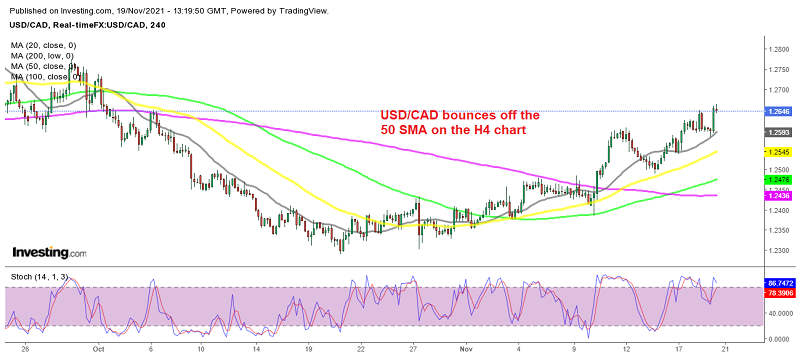 USD/CAD Keeps Increasing, as Crude Oil Keeps Declining
The USD/CAD was on a very strong downtrend for more than a year, which saw it fall from 1.47 to 1.20. This pair formed a support zone at that big round level and reversed higher in summer, reaching almost 1.30. But in October, we saw another reversal, this time to the downside, which made it look like the downtrend had resumed again.
But, the USD/CAD has been bullish during November, breaking above all moving averages, which have turned into support on the H4 chart now. Crude oil, on the other hand, has been declining during most of this month, after placing a high over $85 in late October, and US WTI oil has lost nearly $10 during the retreat.
US WTI Crude Oil H4 Chart
The trend has turned bearish for oil now
Canadian retail sales data force timer 2021
September retail sales -0.6% versus -1.7% estimate
August report was +2.1%
September retail sales -0.6% vs -1.7% estimate.  Last month +2.1%. Year on year +4.8%
Core sales excluding auto 0.2% vs -1.0% estimate.  Last month +2.8%. Year on year +1.0%
Sales ex. Auto and Gas -0.3%. Last month +2.7%. On year +3.4%
Sales decreased in seven of 11 subsectors in September
Looking at a breakdown of the data, there was a sharp fall in clothing and clothing accessory stores of -5.9%. Food and beverage stores led the upside with a 1.3% gain for the month (last month they also rose, by 4.8%). Furniture and home furnishings were also up by 1.3% (this erased some of the -2.4% decline last month)
US Crude Oil Live Chart
Crude Oil made a $3 bearish reversal yesterday as US inflation and Oil inventories report approach
2 days ago