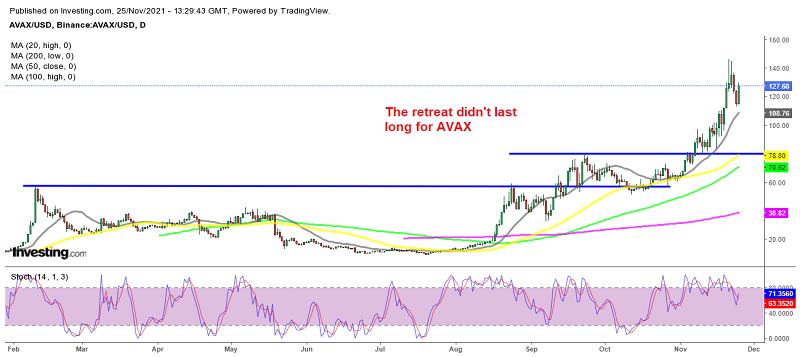 Strong Bullish Signal for Avalanche Crypto (AVAX) As It Heads for $150
After having a great bullish run in October and early in November, cryptocurrencies have been retreating during most of this month, as the US Congress tries to bring digital currencies under taxation. This has been weighing on the sentiment in the crypto market which has retreated lower, but a few cryptocurrencies are showing bullish signs even during this bearish period in the market.
One of these cryptocurrencies is Fantom is Avalanche, which has been surging during this month. It is still showing bullish signs now, which is a great thing for people who have bought this crypto, while others who are out might want to consider buying it.
Avalanche Daily Chart Analysis – Is the Pullback Over?
Avalanche has seen increasing bullish momentum this month, while cryptocurrencies have been on a pullback lower for the reasons we mentioned above. AVAX was hovering at around $10 several months ago, but last Sunday it touched $147, which means gaining 1005 times in value. During this time Avalanche left behind all moving averages on the daily chart as shown above, which shows strong bullish momentum.
The price retraced in the last two days, but it seems like the retrace might be over as buyers have already pushed the price higher today. They didn't wait for the 20 SMA (gray) to catch up, which also shows strong buying pressure. Now, AVAX/USD should be heading for $150.
Avalanche H4 Chart Analysis – The 50 SMA Held As Support
Now buyers are facing the 20 SMA at the top
On the H4 chart, AVAX/USD has found support at moving averages during pullback periods and it seems like the pattern is repeating after the 50 SMA (yellow) turned into support again this week. This moving average has been the ultimate support indicator as shown in the chart above.
After the surge last week, Avalanche retraced down in the last two days, falling to $113, where it met the 50 SMA on this timeframe. The stochastic indicator was oversold, so the pullback was complete and we saw a bounce from there today. Now, AVAX is facing the 20 SMA as resistance but once buyers push above it, the bullish trend will be back on. The partnership with the consulting and accounting firm Deloitte has improved the sentiment for Avalanche which is closing this month with some major gains.